Celtic to mark 20 years since Fergus McCann takeover
Last updated on .From the section Celtic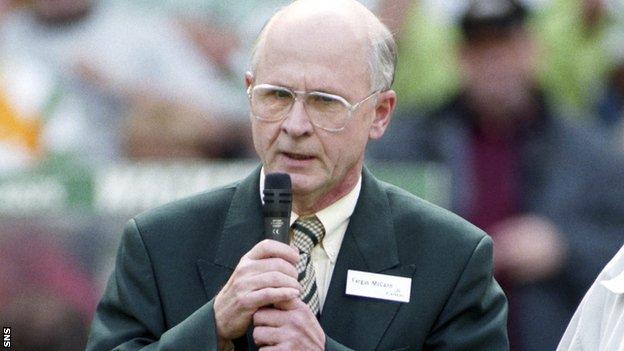 Celtic will mark 20 years since Fergus McCann's takeover during Saturday's home match against Inverness.
The Canada-based businessman rescued Celtic from the brink of bankruptcy in March 1994 when the club's credit facility was recalled by the bank.
Celtic's fortunes were subsequently transformed, both on and off the pitch, under McCann's stewardship as chairman.
"I'm very proud when I see Celtic's progress, its status in Scotland and its worldwide reputation," said McCann.
McCann's intervention to underwrite bank debt and allow fans to purchase shares resulted in complete ground-up restructuring of the Glasgow club.
His investment and long-term business plan helped to prevent Rangers securing a record 10-in-a-row league titles and restored Celtic's standing as a regular participant in European football.
He also instilled an ethos of prudent dealing in the player transfer market and spent more than £40m developing Celtic Park into one of the UK's largest stadiums.
Despite his commercial achievements, there was initially discontent among many supporters when he was in charge over a failure to match Rangers' success.
However, McCann is now viewed as one of the most important figures in the club's history.
"I appreciate the club marking the occasion of 20 years since the takeover," said McCann.
"I want to thank the financing partners who joined me and had faith in my plan. I care greatly for the values and history of the club that was founded for noble purposes to help fund the penny dinner tables of the poor in Glasgow's East End.
"Every supporter wants success for Celtic. That does not mean winning every game and beating every opponent, big or small.
"It does mean having a club that is the best it can possibly be, on and off the field, that never accepts second best, despite the obstacles it has had to overcome throughout its history.
"Celtic supporters want to be proud of their club. That's all they want. It is what they deserve."
Celtic defender Charlie Mulgrew said McCann had achieved something as good as any player had ever managed, and said the fans who had failed to show their appreciation for him in the past would make amends at Saturday's match.
"As a supporter myself, we're very thankful for what he did for this club; it was massive," said Mulgrew.
"To think we were on the brink of liquidation. It maybe wasn't appreciated at the time by all the fans, but now you realise what a job he's done.
"The Scottish boys and the boys who supported the club growing up definitely know the job Fergus McCann did for the club.
"I remember the stadium being built and we maybe didn't appreciate it at the time or realise how good a job he was doing.
"But you look back now and you can't thank him enough."