Rangers board protecting club's future, says Graham Wallace
Last updated on .From the section Football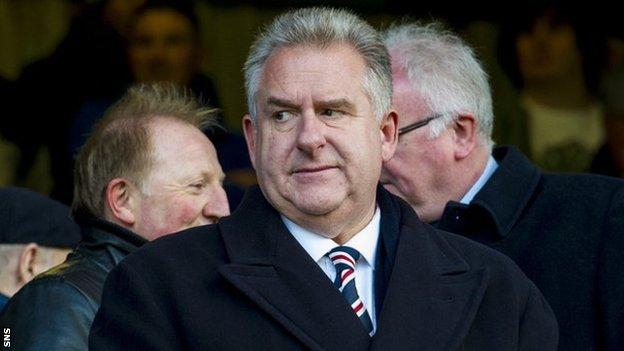 Chief executive Graham Wallace insists the Rangers board are working to "protect and develop" the club for future generations.
Wallace insists such actions would be "damaging" to the club.
And he says Rangers are "on track" to put short-term challenges behind them after .
Shareholders Sandy Easdale and Laxey Partners Ltd have provided credit for working capital over the coming months and that this was not an indication of impending insolvency.
Rangers reported a £14m operating loss for the 13 months to June after £22m had been raised in 2012's share issue.
Earlier this week King, who invested in Rangers during Sir David Murray's ownership of the club, described the current business as "not commercially sustainable in the short term".
And he indicated his own offer of investment in the club had been rejected.
Speaking on the Rangers website, Wallace said: "We know the club will require investment in the future but until we have addressed the problems and deficiencies of the past, it would be foolhardy to seek additional investment without a clear plan of how to use it.
"Many of the problems that the board, executive team and staff are addressing on a daily basis date back some considerable time and as I said at the AGM in December 2013, there is no overnight fix.
"Building trust in those managing the club takes time. I understand that fans have a degree of scepticism, but we will demonstrate in due course the improvements being made to all areas of the club.
"To develop and implement change in the correct manner requires time to get it right."
Wallace's appointment was one of several to the board in the weeks running up to December's annual meeting, following several departures that included former Rangers manager Walter Smith's resignation from the chairmanship.
And the chief executive has appealed for unity.
"We need to do this together," added Wallace.
"Divisive campaigns, fuelled by inaccurate statements played out in the media benefit no one, particularly Rangers Football Club."