Cardiff City: Solskjaer says he is in charge of football decisions
Last updated on .From the section Football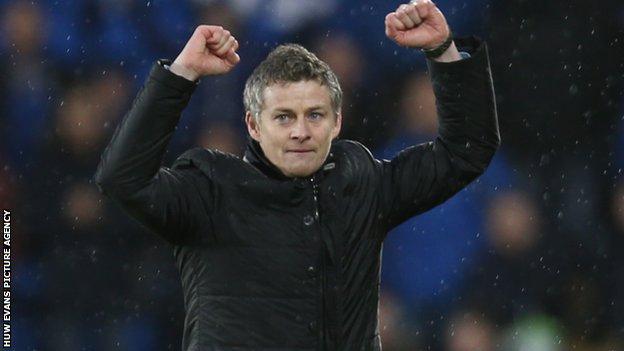 Manager Ole Gunnar Solskjaer says he makes the football decisions at Cardiff City, but admits owner Vincent Tan wants 'transparency" over transfers.
Tan told BBC Sport that previous boss Malky Mackay overspent - a claim denied by the Scot.
Solskjaer insists Tan will not sign players, in spite of the Malaysian's claim that he will be "personally involved" in player recruitment.
"I manage the club with the resources ... that's what he is saying," he said.
"We do have a plan and I have resources - X-amount - and you spend that, and you don't spend X plus Y.
"Everything is in a structure and transparent, so he is involved and agrees and ticks off. There are no ifs and buts. He knows everything I have done."
Tan alleges in the interview that Mackay and ex-head of recruitment Iain Moody exceeded a £35m transfer budget by £15m - an accusation they deny.
Mackay and Moody also claim every deal was signed off by Cardiff chief executive Simon Lim.
Tan says he pays close attention to the transfer dealings and the financial matters at Cardiff.
"In the January transfer window, I was very involved," said Tan.
"We spent about £6m for seven players. In the summer, we signed seven players and committed almost £50m. I want to make sure we spend correctly. If I'm involved, I make better business decisions, getting better value for my money.
"Next summer I'm sure we will do better transfers because I will be personally involved. We're not going to let our manager run wild."
Solskjaer says he and his staff identify any player they want to sign but admits Tan is now involved in the financial side of a transfer.
"He [Tan] is very willing to invest and he wants us to be successful, but he wants to know what we are doing," said Solskjaer, 41, who was appointed in January.
"He wants to know the ins and outs of it and it has to be transparent and in a structure. He is involved in that structure, but the football decisions are obviously mine."
Tan also gives Solskjaer, who has won one out of five games since taking charge, a vote of confidence and says he is "convinced" the former Manchester United striker will keep the Welsh club in the Premier League.
"I am not a person who wants a safe life and to have a job for 10 years or whatever - it's not how it is," said Solskjaer.
"A measure of a man is not when he stands in a zone of comfort, it is when challenges and adversity [are] there. That is when you have to show your personality and character.
"I have to prove I am good enough and I am sure I am."
Solskjaer also confirmed that Cardiff have a pre-contract agreement to sign 31-year-old Spanish striker Javi Guerra on a free transfer from Real Valladolid in the summer.
"He is a goalscorer we need. We tried to get him before the transfer window. They didn't want to sell him because he is their top scorer and they are in a relegation battle, "said Solskjaer.
"He has scored 12 now in La Liga and that is not bad for a team in the relegation zone."