Vincent Tan: Cardiff City fans say they don't need to apologise
Last updated on .From the section Cardiff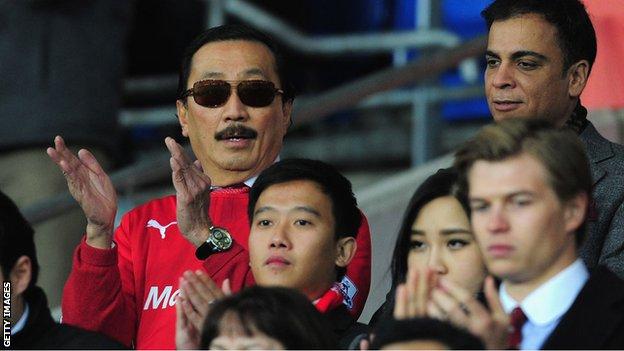 Cardiff City fans insist they do not need to apologise to owner Vincent Tan.
The 62-year-old Malaysian businessman told BBC Sport it was a small minority who were opposed to the way he has run the lowly Premier League club and called on them to "apologise" to him.
And he said he would not change the club's colours back from red to blue.
The Cardiff City Supporters' Trust said it didn't believe fans needed to apologise "for campaigning for a return to our traditional blue colours".
Tim Hartley, the trust's chairman, claimed Tan was being "disrespectful" for not agreeing to see the fans and called for a meeting with him to discuss the club's future.
"The first thing he could do... would be to meet the trust and Cardiff City Supporters' Club," he said.
"We are disappointed that Mr Tan has raised uncertainty about the future at a time when the team is fighting to retain Premier League status."
Hartley added that in December 2013 the owner had promised a meeting, but that it had not materialised.
"Putting that meeting into the distant future is not acceptable and shows disrespect to supporters," he added.
In his first interview since the dismissal of previous manager Malky Mackay in December, Tan said it was his investment which secured the club's promotion to the Premier League in 2013.
He said he was "convinced" manager Ole Gunnar Solskjaer would save Cardiff from relegation and that foreign owners were good for British football.
Cardiff City are second-from-bottom of the Premier League with 11 games remaining.
Much of the goodwill Tan gained after buying the club in May 2010 appears to have been been lost because of the controversial decisions he has made - especially the change of home kit from the club's traditional blue to red in 2012.
His decision to remove Mackay amid claims of a transfer budget overspend - denied by the Scot - also upset fans.
Hartley believes supporters are entitled to call for a bigger say in the way the club is run.
"We are concerned that Mr Tan has yet to decide whether to convert the debt owed to him into equity, which is what fans were promised in no uncertain terms," he said.
"This season should have been an exciting experience for fans after an absence of more than 50 years from the top flight, but it has been soured by continuing off-the-field distractions.
"We would also like a firm commitment from Mr Tan that a Hull City-style change of name will not be countenanced by him at any time in the future.
"Once again, Mr Tan's interview illustrates how important it is to have strong supporter involvement in football clubs, as happens at Swansea City and many other clubs across Wales and England - and in Europe, in countries such as Germany."