Portsmouth: Richie Barker shocked by Pompey task
Last updated on .From the section Football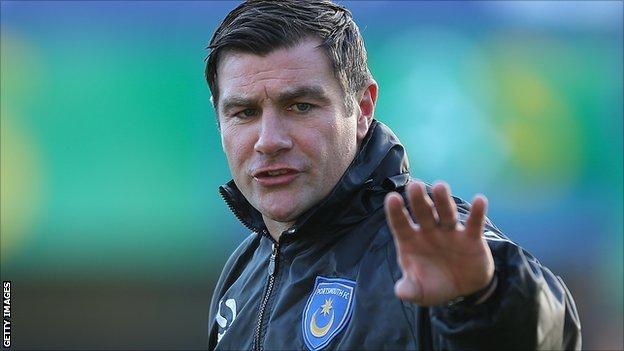 Portsmouth boss Richie Barker has been shocked by how big a challenge it has been to try to turn things around.
"I thought it would only need small changes to get us back into the top half," Barker told BBC Radio Solent.
"Within the first two to three weeks I recognised the changes would have to be fairly big."
He added: "If I'm honest, I thought the team would be closer to the top half in terms of form, in terms of mentality and in terms of technical and tactical ability."
Years of financial mismanagement and several administrations have seen Pompey's squad decimated over the past few seasons and Barker cites these factors as key reasons for their struggles this season.
"I think there were 50 players here last year which is bonkers - it's a hell of a turnover," he said.
"[Previous manager] Guy [Whittingham] started in the summer with a blank piece of paper and started from scratch which is not easy. [Former manager] Michael Appleton did likewise. It is no wonder we are where we are.
"A build-up of these things over time is now starting to hit home. It needs some continuity now. There needs to be somebody at the helm for a while; there needs to be players here for two or three years who become recognisable to the fans.
"The football club has not won back-to-back games all season. The football club has not won back-to-back away games for three years. It's been on minor turbulence for three years now. There has to be a settling down period and that period has to be this year."
Barker, who previously managed Crawley and Bury, admitted his task was different at Fratton Park with a larger supporter base leading to higher expectation.
He is yet to win around the entirety of that fanbase but says replacing him will achieve nothing.
"It is a different job in a different way," he said. "This is far bigger than Crawley and Bury but what I inherited at those clubs was a winning mentality. What I inherited here was a losing mentality.
"So yes this history and fanbase is far better but the mentality has to change. As much as it is a fantastic place to be, it is still a football club that has been losing matches for a very long time.
"If they don't [give him time] they will be going through the same thing with someone else. Change me tomorrow and the next person who comes in is going to have the same problems. They will get replaced in three months and it will keep going. There has to be a stability where someone is allowed to build something."
Pompey take on league leaders Chesterfield on Monday hoping for those first back-to-back league victories of the season.
Hear the full interview with Richie Barker by BBC Radio Solent's sports editor Adam Blackmore on Monday night's sport show.