Capital One Cup: Gus Poyet eyes Sunderland greatness
Last updated on .From the section League Cup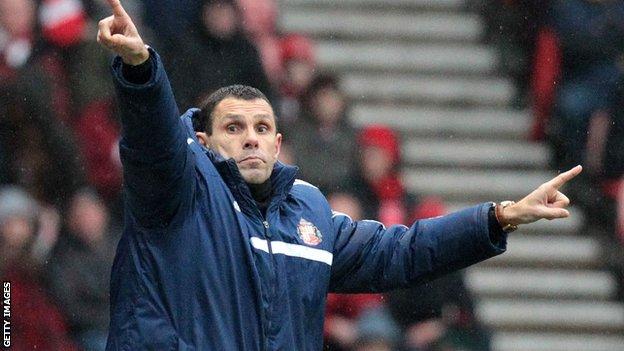 Gus Poyet wants to become a Sunderland legend by leading the Black Cats to victory over Manchester City in Sunday's Capital One Cup final.
"I was told last week that if I want to be famous or a hero in Sunderland then I need to win the Cup," said Poyet.
"It puts pressure on us but I love it. I cannot play, coach or manage without pressure - it wouldn't be me."
Sunderland, whose best performance in the League Cup was as runners-up in 1985, are underdogs heading into the final at Wembley, with 33 points separating third-placed Manchester City and the third-bottom North East side in the Premier League.
However, Poyet has already celebrated some success against City this season, beating them 1-0 at the Stadium of Light in only his fifth game in charge.
His team have also knocked out Premier League sides Southampton, Chelsea and Manchester United on their way to reaching Sunday's final, the club's first major chance of silverware since losing the 1992 FA Cup final to Liverpool.
"We need to be perfect," ex-Brighton manager Poyet, 46, told Football Focus. "We need to be at our best level as a group and not make any mistakes, not give any presents or anything away.
"We need to be outstanding tactically and defensively and we need to be spot on when we're on the ball - if we're not very good on the ball we've got no chance.
"If we're going to go there just to defend and wait and pray for something to happen, it's not us.
"We don't have that quality and then it's going to be impossible because Manchester City are just going to come and come. We need to play a very good game and hope that City are not on an exceptional day and then we've got a chance."
Sunderland, who will hope to evoke memories of their shock 1973 FA Cup final win over Leeds, head to Wembley in good form, having won four of their last six matches in all competitions.
But it is that victory over City's expensively-assembled squad in November that captain John O'Shea believes could have a bearing on the outcome at Wembley.
"It is definitely on your mind because that's the only game we've played against City this season," O'Shea, who will be aiming to lift the League Cup for the fourth time after winning it three times with Manchester United, told Sunderland's official website.
"It's one of those things, obviously a final is different on the day but I'm sure City will be well aware of the last time we played them and they'll have that on their minds too.
"We've got to make sure that even though we've beaten City before, we know we had to work very hard to do that and survive a few scares along the way."