Uefa investigates 76 clubs over Financial Fair Play

By Richard Conway
BBC Radio 5 live sports news correspondent
Last updated on .From the section European Football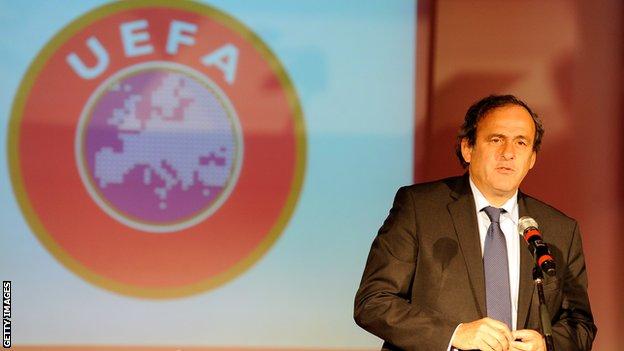 Uefa says 76 clubs are being investigated for possible breaches of its Financial Fair Play (FFP) rules.
Clubs that failed Uefa's break-even calculations for 2012 have been asked to provide financial information for 2013.
Their finances will be assessed by an independent Uefa-appointed panel to see if the breaches have continued.
If they have, clubs could face sanctions that include fines or even bans from competing in Europe.
Uefa confirmed that clubs which fail to meet their strict criteria - brought in to stop what general secretary Gianni Infantino referred to as "greed, wreckless spending and financial insanity" within European football - will be announced in late April.
Those organisations named at that time could then face the prospect of their cases being referred to the adjudicatory wing of Uefa's independent club financial control body (CFCB), led by a judge from the European Court of Justice, which would then determine an appropriate sanction.
The CFCB adjudicatory body is expected to announce its decisions by mid-June.
Clubs do have the right of appeal to the Court of Arbitration for Sport with Alisdair Bell, head of legal affairs for Uefa, warning that July and August "could be a busy time" for the organisation as they deal with the fallout from sanctions being imposed.
"We are not afraid of them [sanctions] being contested," said Bell.
"We fully anticipate there will be challenges. It would be strange if they weren't."
A total of 237 clubs - every side entering the Champions League and Europa League this season - were assessed under the regulations.
Of that figure, 104 were considered exempt as their relevant income and expenses are under £4.1m per year, while 57 were not requested to submit additional information.
Chelsea - despite high levels of spending on transfers and wages since Roman Abramovich bought the club in 2003 - is expected to comply with FFP requirements and is understood not to be among the 76 sides that Uefa have requested additional information from.
Clubs are allowed permissible losses of up to £37m under the break-even rule between 2011 and 2013.
And, once accounts for 2013, are fully analysed some may then be deemed compliant.