Alan Pardew headbutt: Has the Newcastle boss gone too far?

By Phil McNulty
Chief football writer
Last updated on .From the section Football
Newcastle United manager Alan Pardew's reaction to aiming a headbutt in the direction of Hull City's David Meyler was to announce - while actually keeping a straight face - that he had not "had too many problems in the past".
This is not strictly true. Indeed the latest touchline transgression from Pardew merely confirms a belief that he can become an out-of-control liability as he patrols his technical area.
Pardew's behaviour in his confrontation with Meyler, removing the spotlight totally from Newcastle's fine 4-1 win at the KC Stadium, follows a pattern that must now be stopped by the severest punishment possible from the Football Association.
Pardew accepted blame, once again, but his track record suggests the apologies, contrition and promises to change merely provide a delay and a shield between this transgression and his next.
Not too many problems? Well, apart from abusing Manchester City manager Manuel Pellegrini in the crudest terms earlier this season, a two-match touchline ban for pushing assistant referee Peter Kirkup during a game against Tottenham Hotspur in August 2012 and a £10,000 fine for an altercation with Arsenal's Arsene Wenger when he was manager of West Ham United in 2006. No. Not too many problems at all.
There were suggestions from some quarters on Saturday evening that Pardew's altercation with Meyler could put his position as Newcastle manager in question.
The club acted quickly to issue him with a fine of £100,000 and a formal warning - and the FA would not be taking its position seriously if Pardew was not hit with the most severe punishment available.
If a player was to act in such a manner, heavy sanctions would be demanded - and deserved. For a manager, let alone an experienced one, to continue to show such a lack of discipline and self-control is on a different plane entirely.
How can Pardew demand discipline and control from his players, and deliver this message with any semblance of authority, when he is such a serious serial offender himself? His authority, with his own players and in general, has now been utterly undermined.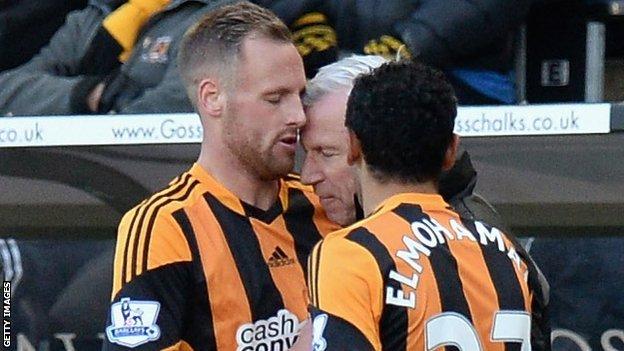 As for the suggestion that he will now stick to his seat and send assistant John Carver, someone hardly known as a shrinking violet on the touchline himself, out to deliver the orders, this is nonsensical.
Pardew must be punished in a manner that will finally convince him that the technical area is not a place where opposition managers and players should be verbally and physically abused. And he must be kept away from it for a very long time.
He may escape with a heavy financial punishment and a lengthy touchline ban - but Pardew could not complain if he was excluded from the stadium when Newcastle play for a long period. This would certainly be a fitting punishment for any supporter who continued to behave in the manner Pardew has.
No-one wishes to see automatons on the touchline and passion is at the heart of football. What is not at the heart of football is a manager who has consistently failed to exercise the correct level of self-control for someone in his position, with all the responsibility that entails.
Pardew expresses remorse and apologises at every turn. When he pushed referee's assistant Kirkup at St James' Park in 2012, he said: "I hold my head in shame."
Has it caused a mellowing of his confrontational approach to opposition managers and players? No.
Sadly, history and his list of offences tells us he does not learn and seems unable to curb his behaviour. Newcastle have acted; now the FA must do likewise.