Dave King says Rangers season-ticket response insults fans
Last updated on .From the section Rangers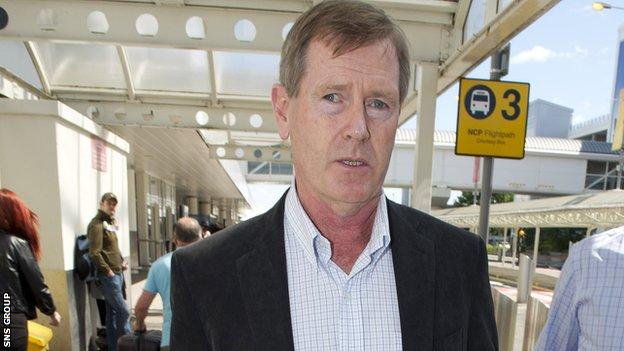 Former Rangers director Dave King has stepped up his increasingly acrimonious battle with the current Ibrox board.
King plans to meet supporters' groups and formalise legal structures for trusts, into which he wants fans to put future season ticket funds.
Rangers say King is undermining the work being done at the League One club.
But King dismisses concerns over the potentially damaging effects of withholding of season ticket money as "an insult" to fans.
In the latest of a series of statements, the former director accuses the board of asking for trust without having earned it and suggests that former chief executive Charles Green may still hold influence.
Current chief executive Graham Wallace insists the board are working to "protect and develop" the club for future generations.
He said Rangers are "on track" to put short-term challenges behind them after recently .
But King has taken a swipe at Wallace for questioning fans' loyalties, saying: "I can only express bemusement at the board's response to myself and the fans.
"In what is really a non-response the board states that our statements are an attempt to undermine the club. That is an insult to fans who have nothing other than the club's interest at heart."
Earlier this week King, who invested £20m in Rangers during Sir David Murray's ownership of the club, described the current business as "not commercially sustainable in the short term".
And he indicated his own offer of investment in the club had been rejected.
His latest broadside continued: "[The board] ask for trust but don't recognise that trust is a mutual relationship and requires transparency.
"What the board is really asking of fans is to have blind faith - not trust. This board has not earned that right and has, in fact, repeatedly demonstrated the opposite."
And King went on to raise doubts about who is really pulling the strings at the club, saying: "It is quite possible that Charles Green is still de facto controlling the club. Certainly the existing directors have a minuscule equity stake and yet won't disclose the true 'power behind the throne'."
"It is insightful of the board's mindset that it is willing to borrow money from a preferred shareholder at a rate of interest that reflects a high risk to the investor.
"In doing so the board has finally confirmed its true view on the parlous state of the club's finances.
"What is incomprehensible however is that it then eliminated the risk to this investor (and separately to Sandy Easdale) by providing club assets as security while still paying the high-risk rate.
"That highlights that this transaction makes no commercial sense and was not conducted on an arms-length basis.
"Paradoxically, the board wants long-suffering fans to lend money at no interest and with no security. Rangers fans are loyal but not stupid."