World Cup 2014: Race to finish venue for opener - Jerome Valcke
Last updated on .From the section 2014 Fifa World Cup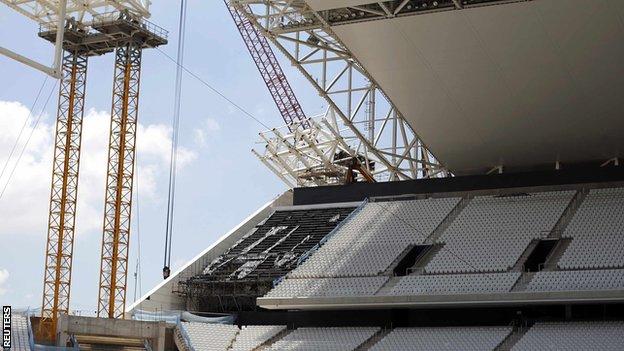 The stadium due to stage the opening match of this summer's World Cup may not be ready until less than a month before the start of the tournament.
Fifa secretary-general Jerome Valcke said work on Sao Paulo's stadium would go on until virtually the last minute.
"There are no more deadlines. We are 104 days before the first day in Sao Paulo in a stadium which will not be ready before 15 May," added Valcke.
"The goal is that on 12 June until 13 July everything will be working."
He admitted: "It's true when you receive something late it's a challenge.
"It's a bit last-minute but it will work at the end and the teams will have the best because for sure the stadiums are beautiful. It's not a criticism, it is just a challenge for the organisers."
Two workers died at the Corinthians Arena in November when a crane fell and damaged parts of the stadium.
Curitiba's stadium is also expected not to be completed until 15 May.
Earlier this month, Fifa ruled out the possibility of stripping the city of its four matches.