Luis Suarez buy-out clause admitted by Liverpool owner Henry
Last updated on .From the section Football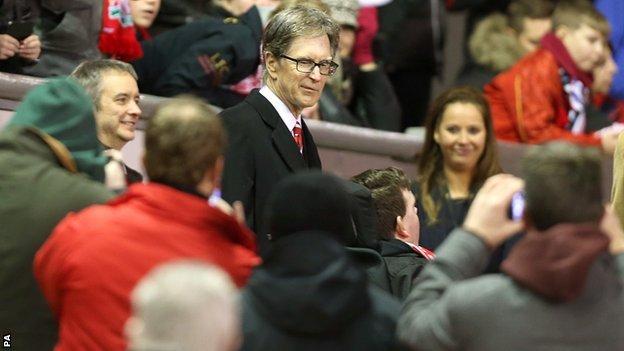 Liverpool owner John Henry has admitted striker Luis Suarez had a £40m buy-out clause in his previous contract but that the club refused to sell anyway.
Arsenal bid a pound over £40m for the 27-year-old last summer, believing it would force the Reds into a sale.
"Arsenal offered £40m and one pound for him and triggered his buy-out clause," said Henry.
"Since apparently these contracts don't seem to hold, we took the position we're just not selling."
Suarez has since signed a new four-and-a-half-year deal with the Anfield club and is currently the top-flight's leading scorer with 24 goals, helping Liverpool to second in the Premier League.
"It's been great for Luis, it's been great for us," added Henry.
A buy-out clause in a contract typically allows a player to leave a club if a stated minimum transfer value is met - but Liverpool insisted last summer that there was nothing in Suarez's contract obliging them to sell the player.
The Uruguayan, who had called on the Reds to let him leave for a club playing in the Champions League, considered putting in a formal transfer request and taking legal action if the dispute was not resolved.
At the time of Arsenal's offer, Henry tweeted: "What do you think they're smoking over there at Emirates?"
But speaking as part of a panel at the MIT Sloan Sports Analytics Conference at the weekend, the 64-year-old American said: "I don't know to what degree I should go into this - but [Suarez] had a buy-out clause of £40m.
"But what we've found over the years is that contracts don't seem to mean a lot in England - actually not in England, in world football.
"It doesn't matter how long a player's contract is, he can decide he's leaving.
"We sold Fernando Torres for £50m. We didn't want to sell but we were forced to.
"For the first time [with Suarez] we took the position that we weren't selling."
Of Liverpool and Suarez's future prospects, Henry added: "What will happen at the end of year, I think we're going to make Champions League and we have a small chance of winning the Premier League this year.
"We have three gentlemen up front - Suarez, [Raheem] Sterling and [Daniel] Sturridge. Those three are young, and I think [they] could be together for a long time."