2014 World Cup: Pressure starting to rise for hosts Brazil
By Tim Vickery
South American football writer
Last updated on .From the section 2014 Fifa World Cup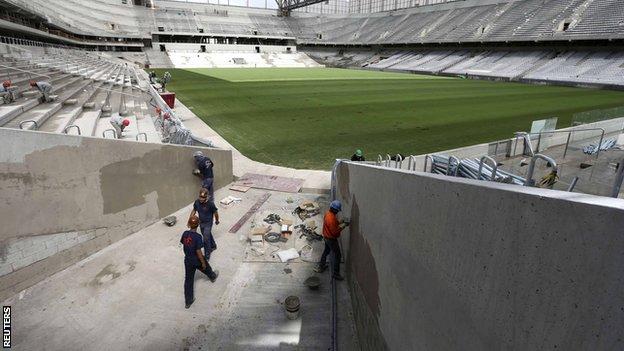 "We're working in conditions where the cement is not yet dry," said Fifa secretary general Jerome Valcke as preparations for the 2014 World Cup move towards the final straight.
Curitiba got itself so far behind that there was a real danger of the city being cut from the schedule.
At a news conference a couple of weeks ago to announce that the city had been reprieved - "We're going to trust Curitiba while also mistrusting it," said Sports Minister Aldo Rebelo - Valcke cut a short-tempered figure.
The representatives of Curitiba were late - "We hope they won't be late for the World Cup," said Fifa's director of communications - and, at the end of the conference they made florid, rambling speeches in the Brazilian tradition. Valcke could barely disguise his impatience.
There have been rows to the last. Anxious about the political reaction, some of the host cities have been reluctant to pay for the temporary structures needed to house the media or run security operations.
Valcke put his foot down. There was nothing to negotiate here, he said, since the responsibility for paying for these things was all in the contract.
Another obligation that some host cities have been trying to wriggle out of is the organisation of Fan Fests.
Again, Fifa is inflexible. The Fan Fests, it says, are an integral part of the World Cup and an essential part of the Host City Agreement signed with them.
It is not hard to understand Valcke's position. At Germany 2006, 3.5 million people went to the matches, while 18 million visited the Fan Fests, making them valuable points of exposure for Fifa's commercial partners.
Once again, in an unpredictably turbulent political environment, the local authorities are concerned about being seen to spend money on football-related matters, and worried that the Fan Fests will prove a convenient extra target for protestors.
Valcke ruffled delicate Brazilian sensibilities a couple of years ago when he said the organisation of the tournament needed "a kick up the backside". Might another be in order now? "Ask me after the World Cup," he replied.

"A man in a hurry will always be unhappy in Brazil," commented Peter Fleming, brother of the James Bond novelist, Ian, back in the 1930s. His observation remains as true today as it was eight decades ago, as Valcke's stress levels make clear.
Fifa has been somewhat placated by very strong ticket sales. Corporate hospitality packages, in particular, have proved much easier to sell than was the case for South Africa four years ago.
The lure of Brazil as a venue continues to be powerful, but, with 100 days to go, there are still some unanswered questions.
Will the straggling stadiums be ready? Further mishaps in Sao Paulo, Curitiba or Manaus will leave those cities cutting things very fine.
Will the airport capacity be able to cope? Once the group phase has finished, hundreds of thousands of fans will be making quick arrangements to move across this giant country.
Will the protestors be out in force? No one saw the protest movement coming last year, when Brazilians surprised themselves by taking to the streets to express their discontent.
Will the security operation be able to cope? Having to protect, on a national basis, the stadiums, the teams, the Fan Fests, tourist zones and the streets will stretch resources.
And we can probably add another question, one likely to have a huge effect on the tone of the tournament. How will the home team perform?
An early elimination for Brazil would change everything. Usually, when such an event occurs, the feel on the streets for a couple of days is like a death in the family, and millions simply switch off from the World Cup.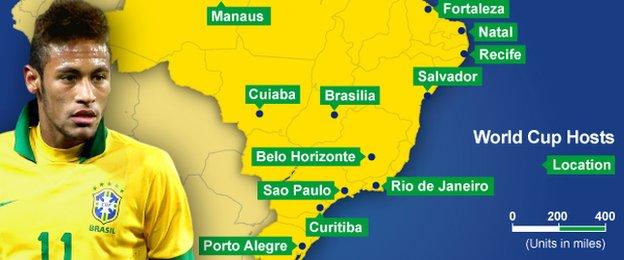 This time, on home ground, with such anger at the way the tournament has been organised, the stakes are higher. The risk is that disappointment with the team could further fuel the fire of popular discontent.
Unpredictability is in the very nature of a cup competition. A bad 15 minutes, a red card, a single refereeing error could all be enough to end the dream.
Coach Luiz Felipe Scolari and his staff are thoroughly happy with the progress they made last year, when they found the balance of their team, won the Confederations Cup and got the fans behind them. After that, they went on to add options and variations to their repertoire.
Doubts have opened up, though, in two vital positions - goalkeeper and centre-forward.
These will be the most interesting areas to observe in Wednesday's friendly away to South Africa, Brazil's last match before the World Cup squad is announced.
Julio Cesar has finally got a move away from QPR, but with the MLS season yet to get under way, he is not in competitive action for Toronto. Will he keep his place on Wednesday, or will Scolari go with Jefferson, who is in fine form for Botafogo in the Copa Libertadores, but untested for Brazil?
Up front, there would seem to be no doubts. Fred, the hero of the Confederations Cup, is still only gingerly making his way back from long-term injury.
His reserve is Jo, who has not shown the form that made him top scorer in last year's Libertadores recently.
The South Africa game is Scolari's final chance to look at options in a position where Brazil are not at their strongest.
But he has shown faith in his regular choices. Fred and Jo are on their way to South Africa.
A masterstroke of man-management or a missed opportunity?
History will make its verdict - and the judgement begins in 100 days.
Questions on South American football to vickerycolumn@hotmail.com, and I'll pick out a couple for next week.
From last week's postbag:
What do you think about Diego Lugano's role in the World Cup? Everybody knows he isn´t in good shape and he is on the bench for West Brom, but in Uruguay everybody says he is very important for the team. Raul Oliveri
Club form and performances are not an exact guide to a player's value in his national team - it's a different context. For Uruguay, Lugano is one of the most important players, the team captain with the voice of leadership, and so coach Oscar Tabarez is prepared to construct his side in such a way as to protect Lugano's lack of pace.
This is a gamble because, if Uruguay are forced to go chasing the game, Lugano could be exposed in open space, where he is a candidate to give away free-kicks and pick up bookings - and maybe worse. Time will tell if this is a tournament too far for the Uruguay captain.
Do you think Philippe Coutinho of Liverpool will make the Brazil World Cup squad? John Breckles
I think his only chance now is if Brazil suffer a sudden spate of injuries. They have so many options for the line of three in Scolari's 4-2-3-1 formation, and Coutinho's hopes probably took a fatal blow when Willian of Chelsea was successfully incorporated into the squad last November.