Ian Lenagan: Oxford United owner closer to appointing manager
Last updated on .From the section Football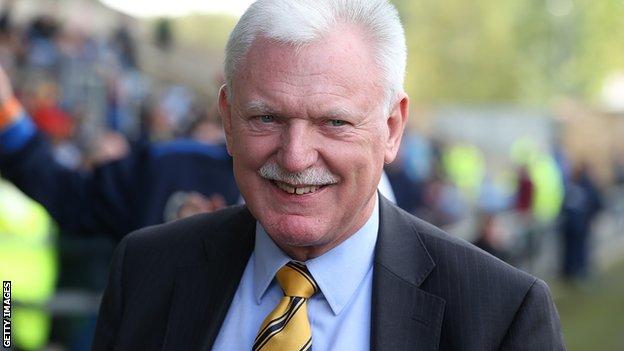 Oxford United chairman Ian Lenagan says the club are "more than 50%" into the process of appointing a new manager.
"When you get 60 people applying for a job, you have got to give it a lot of time," Lenagan told BBC Radio Oxford.
"We've also been proactive in looking for additional people who we know to be of the style that we want and we're more than 50% through that process."
Speaking after Saturday's defeat by Rochdale which left Oxford in fifth place and five points behind the automatic promotion places, Lenagan did not rule out appointing caretaker manager Mickey Lewis on a permanent basis.
"Mickey's had years of experience with Oxford," Lenagan added. "He is a possibility but today didn't help in that respect.
"I met with Mickey earlier this week. He continues for now.
"A defeat like today's doesn't change the fact that we're going to do it properly and we're going to continue to do that.
"Mickey Lewis stays in charge until we appoint a new manager, whether that be in two weeks, three weeks or four weeks' time or indeed at the end of the season.
"It will only be at the end of the season if Mickey gets us back on the winning trail. But one horrible afternoon doesn't deflect us from doing the process properly.
"It's a very important process that we've got to get right for the next few years. It's not something that you rush into."
Lenagan also made it clear that, whoever is named as the new manager, he does not want wholesale changes behind the scenes.
"We've spent two years putting together a good backroom staff and they will stay with us."
Meanwhile, Lenagan revealed that he will meet with top scorer James Constable's agent on Tuesday about a new deal and he is also having contract discussions with a number of other players.