Ipswich Town: No talks over Mick McCarthy contract
Last updated on .From the section Football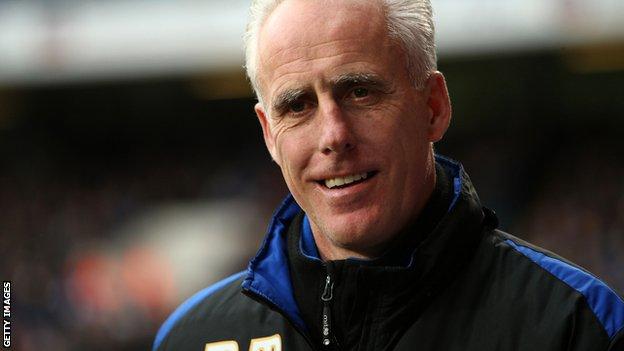 Ipswich Town owner Marcus Evans is in no rush to hand a new contract to manager Mick McCarthy, according to joint managing director Ian Milne.
McCarthy, appointed in November 2012, is on course to lead Town to a first top-10 Championship finish since 2009.
He has 15 months left to run on his current deal.
"I'm sure Marcus is thinking about that. But there's 15 months to go and a lot can happen in that time," Milne told BBC Radio Suffolk.
"I think it's a little bit early to find out what Mick or Marcus wants to do.
"It's a two-party thing. Mick is extremely welcome. He is a great part of the club for us."
McCarthy replaced Paul Jewell at Portman Road 16 months ago and steered the club away from relegation.
And this season the former Wolves and Republic of Ireland boss has turned the Suffolk side, currently ninth, into play-off contenders.
Jonathan Symonds, also a managing director at Ipswich, added: "When has a contract stopped a manager from leaving?
"It comes down to the desire of the man to be somewhere and right now Mick seems to be very happy where he is. I'd like to see Mick stay longer."
Town's highest finish since Evans bought the club in 2007 was an eighth-place finish in 2007-08, with little prospect of the club winning promotion in that time.
Evans, who owns 87.5% of Ipswich's shares, has pumped considerable sums into the Championship side, with the most recent accounts showing the club's debt to the businessman is more than £72m.
But Symonds is confident Evans is committed to the club and has no intention of walking away.
"I don't know when that point would be. But right now he is happy where he is," said Symonds.
"You're always going to be frustrated with Championship football when there is such a big goal. But Marcus is very happy with the club at the moment."