Rangers demand Dave King attends board meeting
Last updated on .From the section Football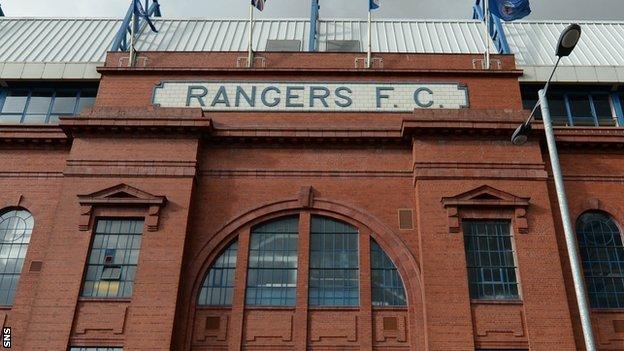 Rangers have asked former Ibrox director Dave King to attend a board meeting to explain recent comments they say are damaging to the club.
King has urged fans to withhold season ticket money because of fears over the League One leaders' finances.
Former chief executive Charles Green might still hold influence, he added.
"We wish you to attend a meeting to explain your allegations in more detail as soon as possible," Rangers chairman David Somers said in his letter.
"The board of Rangers International Football Club has noted your astonishing press releases over the past few days.
"These statements and innuendos are very damaging to the club, which we can only assume is your intention."
But Rangers and King were united in dismissing weekend rumours that chief executive Graham Wallace was preparing the club for a second insolvency event in the space of two years.
"There is an agenda-driven campaign underway to destabilise Rangers," said a club spokesman on Sunday evening.
"Please look at the anti-Rangers record of certain bloggers and ask yourself why they would put out damaging misinformation such as this.
"What amazes me is that professional observers might be tempted to fall for such blatant negative propaganda.
"There is no meeting tomorrow at Ibrox. The CEO is getting on with the rebuilding of this great club and will not be deflected by this vicious campaign.
"There is no possibility of administration. That is utter fantasy."
Rangers recorded a £14.4m loss last year and last month accepted £1.5m in loans from shareholders Sandy Easdale and Laxey Partners, which led King to voice his own fears about the club's financial future.
However, the 58-year-old South Africa-based businessman said: "I don't believe that it is likely that the club will go into administration at the present time."
Rangers accused King of undermining their work to stabilise the Glasgow club after his appeal for fans to withhold season ticket money until they were given assurances about the League One leaders' future received backing from the Union of Fans coalition.
King is poised to fly to Scotland next week as he steps up his bid to force boardroom changes.
When asked on Friday which side in the battle he was backing, manager Ally McCoist opted not to discuss the latest drama.
King believes McCoist is right to take a step back from the Ibrox power struggle.
"I believe it is the manager's job to focus on team affairs and to stay away from the corporate activities that he has no influence over," said King.
"I haven't had discussions with Ally on my recent statements and I don't believe that it would be appropriate for me to do so.
"Ally has always demonstrated his loyalty to the club and will, no doubt, continue to put the club ahead of any individual."
McCoist had previously admitted that his team-building plans were on hold while the club's finances were being stabilised.