World Cup 2014: Oguchi Onyewu's bid to play in Brazil
Last updated on .From the section World Cup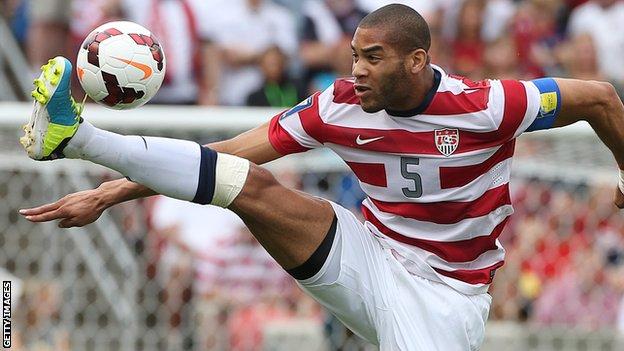 The Steel City, Spotland and the Spice Girls do not figure in the stories of many World Cup wannabes but all three could help Oguchi Onyewu in his unlikely bid to make it to Brazil.
As the countdown to the finals continues, there are plenty of other players like the big United States defender who are trying desperately to grab a place on the plane with their national squad this summer.
Not many of them will have played less football than Onyewu has in the last five years, however, or travelled more miles to try to get some.
Before he joined Sheffield Wednesday on a short-term deal in January, Onyewu had featured in only 27 league games for five teams in five countries since the start of the 2009-10 season. He had also not played 90 minutes at club level for more than a year.
False rumours that a serious knee injury he suffered five years ago at AC Milan had wrecked his career hardly helped his cause, and neither did spending the first half of this season on the sidelines at QPR.
His lack of game-time meant that, at the start of 2014, the 31-year-old's hopes of a third appearance at a World Cup finals seemed a distant dream.
Not anymore. Recalled to national duty for Wednesday's friendly with Ukraine in Cyprus, Onyewu will hope to win a 69th cap and show US coach Jurgen Klinsmann why he should take him to Brazil.
"It is a big step towards the World Cup," Onyewu said. "After the Ukraine game, there is only one other friendly (against Mexico in April) before the provisional squad is named for the finals. Every landmark is an important one from here on in."
The backing he has been given by his boss has already provided a boost. Last autumn Klinsmann phoned QPR manager Harry Redknapp to recommend that he give a trial to Onyewu, who was a free agent after leaving Spanish side Malaga.
"Jurgen is not my weekend drinking buddy or anything like that," smiles Onyewu when asked how close he is to his national manager. "But, as highly as he speaks of me as a player, I think highly of him as a coach as well. He is full of energy and ideas and he has done fantastic things for our national team.
"It is definitely uplifting that any of your coaches think well enough of you to the point they would put themselves on the line and speak to another coach of such a high standard in such a way.
"For Jurgen to say in October that I would probably be in his squad for the finals was definitely encouraging and I thank him for that, but that is not always enough.
"Although it helped me to get where I wanted to be in terms of signing for QPR, it did not help me to get where I needed to be, which is on the field."
Onyewu has had to go to Hillsborough to do that, and with some success.
He scored the decisive goal in an FA Cup win at Rochdale in his second game and has also helped the Owls to three clean sheets in five Championship matches.

"It's been a breath of fresh air to play some competitive games and scoring was a great feeling," Onyewu added.
"In a sense that goal was like saying "I'm back" but in another way I never really went anywhere. It is just there are a few people out there who like to put a negative spin on things.
"Last summer there were countless rumours that I was seriously injured and it meant some transfers fell through because people were questioning my fitness and questioning my knees that have not been injured in years. I had a long-term knee injury when I was at Milan in 2009 but have not had a recurrence of it since then.
"I know my abilities and I am not going to say I will play until I am 40 because that is not the case. When I am done, I will know it but at this point, I am not done.
"I knew I could still contribute but all I needed was a fair opportunity. Sheffield Wednesday have given me that and I am trying to repay them with some good performances."
As well as his solid displays on the pitch, there has been one stand-out performance by Onyewu off it that has helped him settle in at his new club.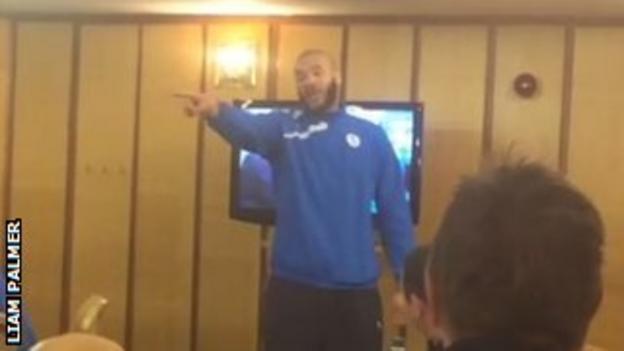 For his initiation after joining the Owls, he sang and danced to the Spice Girls hit 'Wannabe' and, thanks to his new team-mate Liam Palmer, became something of an internet sensation in the process.
"I'd refused to do it," laughs Onyewu. "I had already played for Wednesday twice by then and I said 'I am not singing', but the rest of the team kept on at me.
"Out of nowhere I just thought 'let's go with it and make them laugh'. It was a split-second decision and I went with an English song I thought everyone would know.
"They weren't expecting me to do it at all, and I know they definitely weren't expecting me to do the Spice Girls.
"Then I found out Liam had put it on his Instagram account. He killed me with that one, but I will get him back."
Revenge is on the agenda, and so is his future at Hillsborough. His contract is up at the end of the season but what happens next will not distract Onyewu from his main mission.
"For the last eight months all my decisions have been World-Cup based," he explained.
"It is a tournament that never gets any less special for me. As soon as you hit a World Cup year your objectives, aspirations and intentions for that season completely change.
"If it wasn't World Cup year, maybe I wouldn't have left QPR, maybe I would have stuck it out there. But I needed to play instantly.
"Every game helps my World Cup hopes. Every game that I am fit, and every game Jurgen can see me playing in and playing well.
"So I am just going to keep fighting for my cause and for Sheffield Wednesday's, and hope that is enough."