Corby Town close to administration, says chairman
Last updated on .From the section Football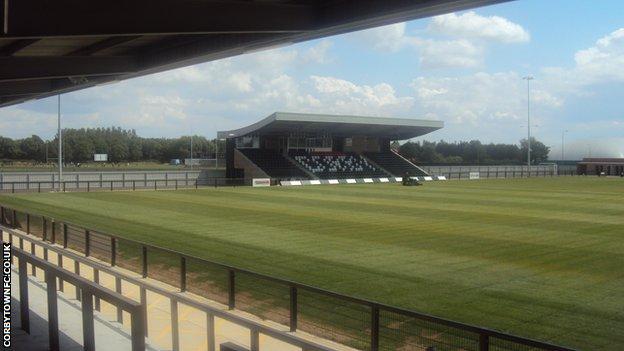 Corby Town have said an ongoing dispute with Corby Borough Council could put the club into administration.
The Steelmen claim they are owed almost £200,000 as part of a deal to run local facilities near the club's stadium.
The council have said the club's claims contain "factual inaccuracies".
"We've had virtually no income since Christmas [because of postponed games]. We're very close to the wire. We're on a knife-edge," Steelmen chairman Kevin Ingram told BBC Radio Northampton.
"In a couple of weeks' time the borough council will owe us just short of £200,000.
"How can any football club at our level exist when somebody owes you £200,000?"
Southern League Premier Division side Corby say they are owed money as part of a deal struck in 2007, which would see the club paid £90,000 a year to manage the Rockingham Triangle community sports facility, based around the team's Steel Park home, which was built with council money.
A working group has since been set up to oversee £200,000 of funding aimed at completing the Sports Pavilion on the site, but discussions have broken down.
The club say £104,000 of the £200,000 is coming from the Football Foundation - a charity funded by the Premier League, Football Association and the UK Government - and the rest from the council.
Corby Town have initiated legal proceedings against the council.
In a statement the council said: "We are currently responding to legal proceedings initiated by CTFC and as a consequence we are following external legal advice.
"Since late 2013 the council has sought, before any meeting, a brief outline in writing of Corby Town's proposals, we are currently still awaiting this.
"The [club's press release] contains factual inaccuracies e.g. the £200,000 of ring-fenced investment does not include the use of £104,000 of grant funding from the Football Foundation, this £200,000 is CBC funding.
"The council has a responsibility to the taxpayers and wider community."
Ingram said the future of the Sports Pavilion is integral to the club's survival.
"We need to refurbish the facility for community use, sport, conferencing and leisure facilities so we can create a commercial income stream," he said.
"With that we can run the Rockingham Triangle facility."
Ingram also confirmed the Steelmen are behind on paying players' wages.