Bury v Rochdale: David Flitcroft ready to face friend Keith Hill
Last updated on .From the section Football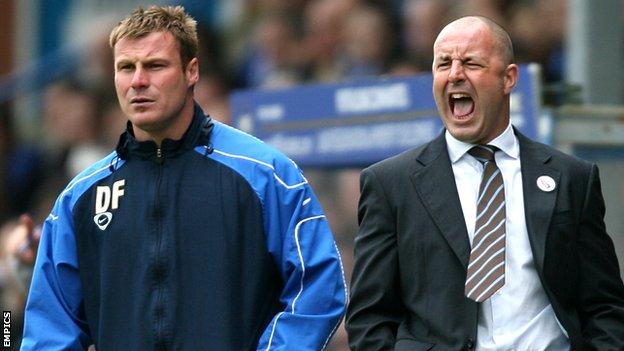 Bury manager David Flitcroft and Rochdale boss Keith Hill will put their friendship to one side when they face each other as managers for the first time.
The pair first met in 1999 when both were players at Spotland.
"He's a unique coach and a unique person. His detail in preparation is as good as any manager in the country," Flitcroft told BBC Radio Manchester.
"Hilly will have his game plan, we'll have our game plan and one thing there will be is a massive level of respect from sets of players, management staff and hopefully fans.
With just over five and a half miles between Gigg Lane and Spotland there has always been an intensity to this Lancashire derby, but it will take extra significance with Flitcroft and Hill meeting in opposite dugouts, as well as the seven players who have featured for both clubs.
As well as his time as number two at Spotland, where he helped Hill, 44, guide Dale to promotion for the first time in 41 years, Flitcroft has spent time as tough tackling midfielder at both clubs.
Asked what he wants from his players during the game, Flitcroft said: "Fire in your heart and ice in your head. You've got to be calm, you've got to be disciplined and you'll need a strong referee.
"I watched the derby at Rochdale [earlier this season] and I was sat in the stands that day as the Barnsley manager. I was shocked that it seemed unimportant to the Bury players.
"As an ex-player I felt quite offended in the stand to be honest, but I'll be telling the players the importance of what a derby means."
Another link between the two is the current Rochdale assistant manager Chris Beech who after a spell as a player at Rochdale, was given his first coaching job at Bury, developing their youth players.
He rejoined Dale in 2007 in a similar role before being promoted to assistant manager under Hill last summer.
"Dave will do his homework on us as we have on them," Beech told BBC Radio Manchester.
"He'll be looking forward to it but we'll be definitely looking forward to it. We know each other very well but we've just got to concentrate on what we know here and what we do.
"I know the supporters want to beat them 6-0 and all that sort of silly talk that goes on in pubs, but we'll turn up and be professional."
The Shakers have not beaten Dale in the previous four meetings, with their last victory coming in 2010 when Ryan Lowe scored the only goal of the game at Gigg Lane against a Dale side who were top of the table.
One player who has won the fixture playing for both teams is current Rochdale player-coach Brian Barry-Murphy, who spent six seasons at Gigg Lane before moving to Spotland in 2010.
"I'd be lying if I was saying it didn't motivate me a little bit more when it was a local derby, it's just an exciting game," Barry-Murphy said.
"At our level you don't always get big crowds and great atmospheres, so it's something players should thrive on really."