Russell Slade: Leyton Orient still eying automatic promotion
By Rob Stevens
BBC London & South East Sport
Last updated on .From the section Leyton Orient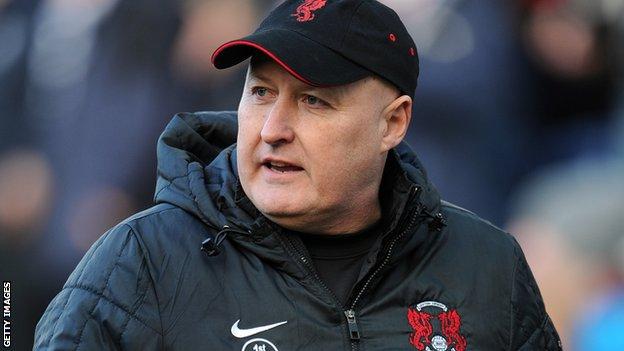 Leyton Orient manager Russell Slade says his side should not be written off as contenders for automatic promotion.
The O's are second in League One but have played two more games than leaders Wolves and third-placed Brentford, who lie three points behind Orient.
"If you listen to a lot of media it is already decided that it is Brentford and Wolves," Slade told BBC Sport.
"We will just use it as a motivational tool that out of the three we are not the ones that are expected to do it."
The 53-year-old added: "I understand the reasons why they are doing that but there is no way I wouldn't back my little group to go the distance."
Having finished seventh in 2012-13, Slade's pre-season target was a place in the play-offs.
The O's were the early pace-setters in the third tier, starting the season with a club-record eight successive victories, and have been in the top two for the majority of the campaign.
However Brentford have propelled themselves from mid-table to become title contenders on the back of a recent 19-match unbeaten run while Wolves have won their last seven games to top the table on goal difference.
"We've not felt the pressure," Slade said. "Structurally we've split the season into thirds.
"To get a good start - the first steps of the season - and then to have a consolidation period.
"The last part is that belief and wanting to get where we want to get to. Do we want to be playing X, Y and Z [in League One] or A, B and C [in the Championship]?
"It is that sort of scenario we look at and make sure we are mentally prepared for the run in as well as physically.
"We have got a lovely momentum that we have had stemming back some 15 months now and we just need to keep that going."
After three straight defeats in early February, Orient are now four unbeaten and they will welcome both Brentford and Wolves to the Matchroom Stadium before the end of the season.
Having started his managerial career with Notts County in 1994-95 and been in near continuous employment since 2001, the former Scarborough, Grimsby, Yeovil and Brighton boss hopes his own experiences can help Orient reach the second tier for the first time since 1981-82.
"I've done over 600 games now as a manager and I think it's times like this that you pull on all the experience that you have had," he said.
"Maybe it's difficult times or where I have got into the play-offs [losing at Wembley with Yeovil in 2006-07]. You use and maximise all that experience you have got to help your team over the line.
"I think that is a big part now.
"We will do everything we possibly can and whatever it takes really to try and get over the line. My experience will hopefully help the team over the last 12 games."