Jess Fishlock column: Boss Jarmo Matikainen stay is great for Wales
Last updated on .From the section Football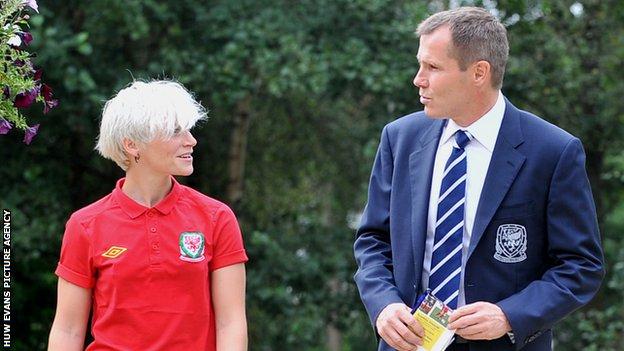 Wales Women's football captain Jess Fishlock reveals that manager Jarmo Matikainen will remain in charge of the senior team. The Finnish coach had been expected to leave in March but the 54-year-old will oversee the rest of the World Cup qualifying campaign.
Thankfully we've still got Jarmo Matikainen as manager - he's staying with us for the whole of this campaign which is brilliant.
He has resigned from his full-time post with the senior team, under-19 team and under-17 team.
However, he will stay on as a part-time manager for the senior side which is huge news for us with everything that he's done for us as well.
I know I can speak for the rest of the squad when I say we are completely grateful that he'll stay on for this 2015 World Cup qualifying campaign.
That just sums up Jarmo as a human as well as a manager: he didn't want any disruption for this campaign and didn't want anything to change because we're in a good position.
We have every chance of doing what we want to do and I think he knows he's a big part of that.
Everyone is just aware how disruptive a change of manager during a campaign can be and the Football Association of Wales and Jarmo both see we're in a good position.
We've played three games - beating Belarus and Montenegro but losing to England - and we're sitting in a good position. To disrupt that would probably not have been the wisest decision.
Thankfully together they've managed to put a package together that means Jarmo is happy to stay on and we have the great opportunity of still working with him.
Everything we've achieved and the rise in women's football has undoubtedly been because of him and it would have been a shame for him not to have seen out this campaign.
This weekend we've got two friendly matches against Romania - on Friday at Port Talbot and Sunday at Llanelli - and they're our preparation for the World Cup qualifiers with Turkey and Ukraine in April.
They're going to be the second and third seeds in Group Six, and we're the fourth, so these are the ones where the results will probably mean the most and will get us climbing up the table.
It's a shame we're not in the Algarve Cup, which is always good for us, but we've managed to get two friendlies.
I'm really excited to meet up with the girls again. It's been a while and it's really important preparation for our qualifiers.
Romania is good for us because they're going to give us difficulties that we will get against the likes of Turkey and Ukraine. They're all teams that are improving.
I've just finished playing for Melbourne Victory in Australia and it was really good to win the Westfield W-League grand final against Brisbane Roar .
That was really good for Melbourne after they lost in the final last year. I was player of the match, which was really nice, but the most important thing was we got the win. We played well on the day.
I felt it was a huge achievement for us and definitely one that is up there with some of the best stuff I've achieved in my career to date.
The final was full of great, great talent and it was a great game of high intensity and really good quality.
I'm still really, really buzzing about it to be honest. It was a good end to a good little stint in Australia and a perfect way to get me started and excited for Seattle Reign's new season.