Rangers mull over new loan offer
Last updated on .From the section Rangers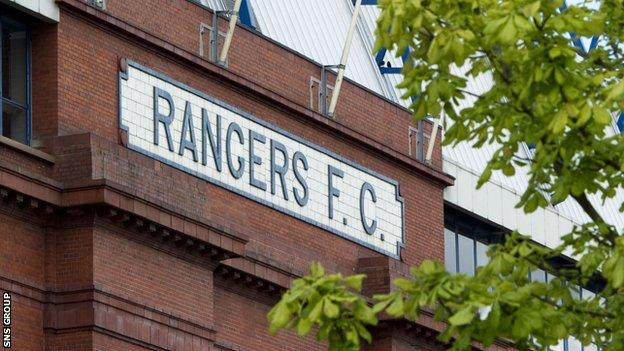 Rangers are considering a £1m loan deal which would see an arrangement with Laxey Partners Ltd cancelled.
The Ibrox club has told Press Association Sport they will explore an offer from businessman George Letham.
Laxey Partners, the club's single-biggest shareholder, stand to make £150,000 in either interest or shares by the time their money is repaid by the agreed date of 1 September.
However, Letham is reported to want half of that sum for his loan offer.
Last week, the League One leaders confirmed they had accepted an interest-free loan of £500,000 from Sandy Easdale, director of the football board, as well as the £1m deal with Laxey Partners Ltd.
And the three main fans' groups united to express concern about the "unduly onerous" terms.
In a joint statement, the Rangers Supporters Association, Rangers Supporters Assembly and Rangers Supporters Trust said: "We have been contacted by a number of Rangers supporters, who are also current shareholders, indicating they would have provided a secured loan of £1.5m on more favourable terms than the combined Laxey Partners/Easdale loans".
Both loans are secured against the club's Edmiston House and Albion car park facilities.
Rangers announced a £14.4m loss in the 13 months to June and the playing squad refused to accept a proposed 15% wage cut as the club seeks to cut costs.
Rangers say the borrowed cash will be used for working capital over the coming months, with chief executive Graham Wallace insisting there is no threat of a second administration.