Hull City try to explain name change to Hull Tigers
Last updated on .From the section Football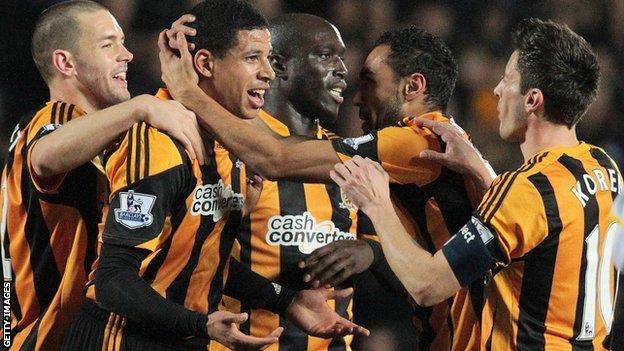 Hull City vice-chairman Ehab Allam has written an open letter to the club's fans trying to explain the reasons for a proposed name change to Hull Tigers.
Allam said the name change would give an "edge" in sponsorship negotiations.
He added that if the hierarchy could not run Hull "in a way we feel fit" they would "offer the club for sale".
Hull owner, and Ehab Allam's father, Assem Allam - who moved to the city in 1968 - took charge of the club in December 2010 and last season oversaw promotion to the top flight for only the second time in the club's 109-year history.
The 74-year-old is credited with rescuing Hull from administration but has been at odds with supporters over his plans to change the club's name.
He announced in August that the business that runs the club had already been renamed Hull City Tigers.
However, unhappy Hull supporters have set up the "City Till We Die" protest group to oppose a similar name change for the football team.
Assem Allam has maintained that the move will benefit the club commercially, because he considers the word City to be "lousy" and "common".
The letter from his son published in the Hull Daily Mail reiterates this stance, while also stating that the owner has invested £74m in the club.
"We have nothing left to give, and this is the reason why the club has to become financially self-sustainable," the letter states.
"Currently there are six teams in the Premier League with 'City' in their name, and with the exception of Manchester City, all of those clubs are in a similar league position to us, and playing to similar-sized crowds.
"We need something that makes us stand out from the pool of teams we find ourselves in when it comes to attracting potential international sponsors, who are simply hoping to use the Premier League, and its global audience, to advertise."
The City Till We Die group, which has made their own submissions to the FA about the name change, added that the letter said nothing new.