Vauxhall Motors to resign from Conference North
Last updated on .From the section Football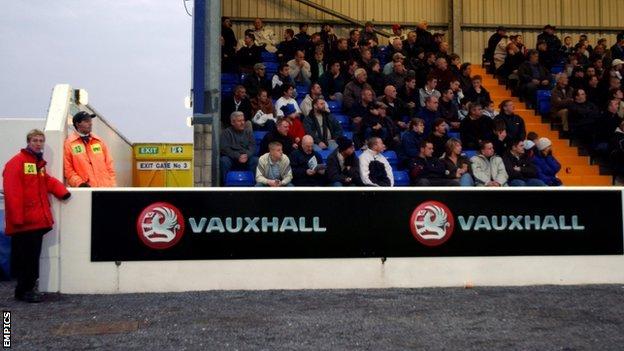 Vauxhall Motors have tendered their resignation from the Conference North because of financial costs, and are set to leave at the end of this season.
The Cheshire club are currently 15th in the division with 10 games remaining this season.
The Motormen have twice been reprieved from relegation - in 2008 and 2010 - after other teams' financial problems.
"This now unsustainable position has been going on for several years," said chairman Alan Bartlam in a statement.
"Vauxhall Motors like many other clubs are confronted with the reality of low gates and ever-increasing costs.
"It is anticipated this season will result in another sizable financial loss eating into a legacy of finances that we were fortunate to inherit over a decade ago and to do nothing would be foolhardy.
"As a responsible committee administering a club that was founded over 50 years ago and a club that we would wish to continue for another 50, with responsibilities beyond the Football Conference, to some 30 teams, youth, junior and ladies catering for over 400 children within Ellesmere Port and beyond, it has become necessary to withdraw the senior side from the established pyramid.
"We have enjoyed 19 fabulous seasons in that pyramid but now we must restructure, stabilise and rebuild again."
Football Conference general manager Dennis Strudwick told BBC Sport that they were yet to receive official confirmation of the Motormen's resignation.
But he said in that eventuality only two teams would be relegated from Conference North this season.
The club began life as the works team of the Vauxhall Ellesmere Port car plant and the semi-professional side have spent their entire existence in non-league, with their greatest result coming in 2002 when they beat QPR at Loftus Road on penalties in the FA Cup.