Lionel Road: Brentford 'not complacent' as they await approval
Last updated on .From the section Football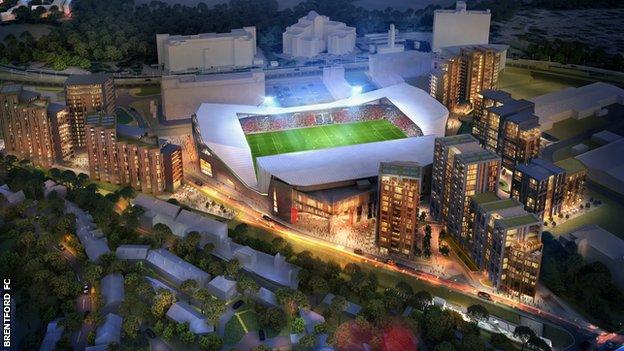 Brian Burgess, the man heading Brentford's bid to build a stadium at Lionel Road, says he is not complacent as they await final approval.
"We don't know when the decision will come but are hoping it is in the next couple of weeks," Burgess said.
"Fingers crossed he [Pickles] will accept the work that has been done."
Hounslow Council granted planning permission for the League One club to build a new 20,000-seater stadium in December but their decision was subject to referral to the Mayor of London and government.
The Mayor's office backed the council's decision to approve the plans, which include up to 910 residential apartments, when they inspected the proposal last month.
Conservative MP Pickles, the Secretary of State for Communities and Local Government, is now obliged to look at the Lionel Road scheme.
"Hounslow Council accepted the scheme was a good one and will bring a major contribution to economic growth; with new jobs, new homes on brownfield land and increased revenue for local businesses," Burgess, an executive director of Lionel Road Developments Limited, told Late Kick Off London and the South East.
"The project brings tremendous economic, social and environmental benefits.
"We are confident the work which has been done, which has been recognised, accepted and approved by Hounslow Council and the Greater London Authority and the Mayor of London's office, that the Secretary of State will recognise this is a scheme which has tremendous benefits.
"[With] the analysis Hounslow Council and the Greater London Authority officials have done, they have been satisfied the scheme is a good one.
"Those benefits outweigh any impact. We believe this scheme will be good for Brentford and west London as a whole.
"But when you are a Brentford fan, you are never complacent."
The Bees are looking to build a new stadium to increase their revenues as Griffin Park, their home since 1904, is unsuitable for redevelopment.
With limited hospitality suites or facilities for non-matchday income, Brentford's annual losses are in the region of £5m. Owner Matthew Benham, who recently took his shareholding from 96% to 100%, has financed the club heavily in recent years.
Brentford's supporters' trust first identified the Lionel Road site for a new ground in 2002 and suggested building a 23,000-seater stadium as part of a development which included a proposed monorail link to Heathrow airport.
The 7.6 acre site, which lies between Kew Bridge railway station and the M4 motorway, was bought by Benham in summer 2012.
Bees chief executive Mark Devlin says the west London club have eventual ambitions of winning promotion to the Premier League once they move to Lionel Road.
"It may seem a nonsense to some people but why shouldn't we dream?" Devlin said.
"We believe we are going to build a structure and a stadium with a group of people on and off the field that can achieve that ambition."