Scotland: Gordon Strachan's side continue to impress

By Alasdair Lamont
Senior football reporter, BBC Scotland
Last updated on .From the section Football107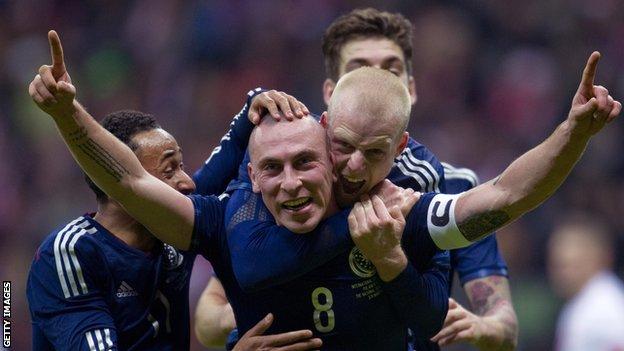 This is heady stuff! Scotland supporters are in danger of getting used to watching a winning side.
Without wishing to wallow in statistics, some of the figures make pretty startling reading for a group of fans who have come to accept disappointment as a given.
Three consecutive away victories for the first time since 2007, four clean sheets in a row for the first time since the 1998 France World Cup qualifying campaign and five games unbeaten overall.
Mightily impressive for a team who, only a year ago, looked bereft of confidence, short on ability and lacking in potency.
Writing these pieces after international fixtures has become an exercise in restraint in recent months, because anyone who has taken the slightest interest in the national team's fortunes since that 1998 campaign will know that glimpses of light at the end of the tunnel are commonly eclipsed by dark swathes of reality.
And so it feels wrong to get overly buoyant about what is clearly an upturn in performance and, more importantly, results.
But equally, for too long the nation's football writers have had to deal in doom and gloom. The desire to wax lyrical about the possibility that maybe, just maybe, Scotland could qualify for a major tournament is difficult to contain.
Looking at it coldly, the past two victories have come in friendlies, won by a solitary goal when the overall team performance was less than scintillating.
Certainly the second half against Poland was better from the Scots but, by Gordon Strachan's own admission, there has been too little for the opposing defence and goalkeeper to do.
That's despite the players admitting that under Strachan they have been given more opportunity to get forward and try to put the opposition under pressure rather than concentrating on not losing.
Old habits die hard, perhaps, but we should accentuate the positive while we can.
Not only do these players look like they are learning the ability to grind out results, they look infinitely more comfortable in possession than they did this time a year ago.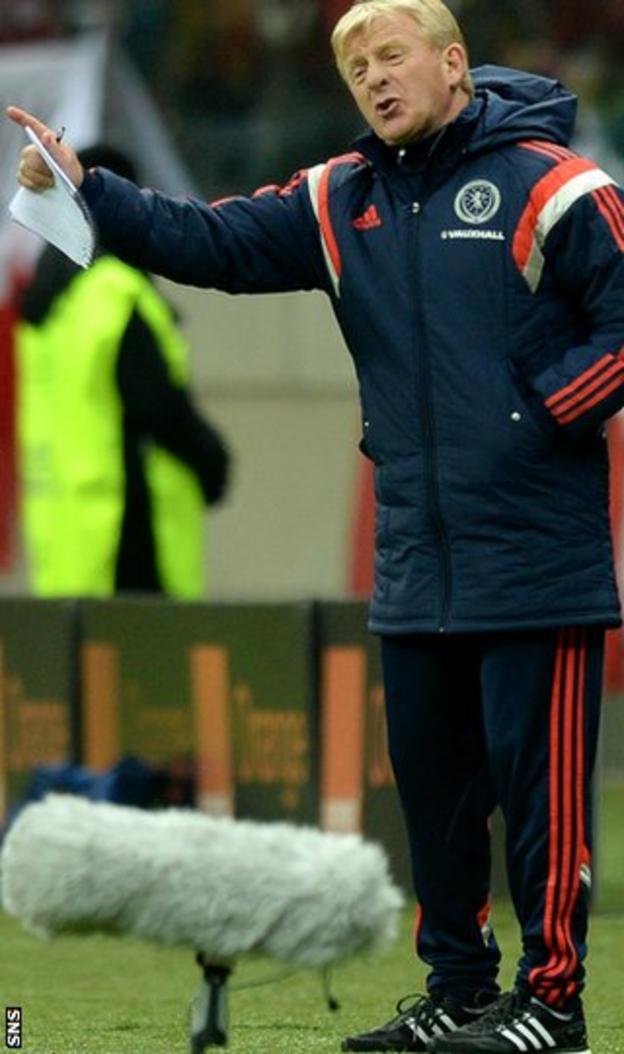 Think back, even to Strachan's first competitive game in charge at home to Wales.
Scotland players couldn't get rid of the ball quickly enough, and they didn't seem overly concerned about where they passed it. Too often possession was turned over to the opposition, immediately putting the Scots on the defensive.
That hasn't been happening recently.
So, things look good - on the whole - for Scotland going into the Euro 2016 qualifiers.
One nagging concern, though, is the lack of opportunity between now and the first match in Germany in September to build further on these strong foundations.
A friendly at the end of May - almost certainly against Nigeria at Craven Cottage, loose ends permitting - is likely to be the only game time the Scots get as a team before the qualifying campaign begins.
One game in six months is not a lot to work with, particularly as that will come at the end of the season, when players are looking to finally rest niggling injuries and wind down mentally for the summer.
But such are the vagaries of international football, and Gordon Strachan has proved himself adept at playing the cards he's been dealt.
So Scotland should bask in the glory of this current run, and hope - for the first time in a long time - the light at the end of that long tunnel continues to grow brighter.