Cardiff City: Owner Vincent Tan an 'easy target' - Aron Gunnarsson
Last updated on .From the section Football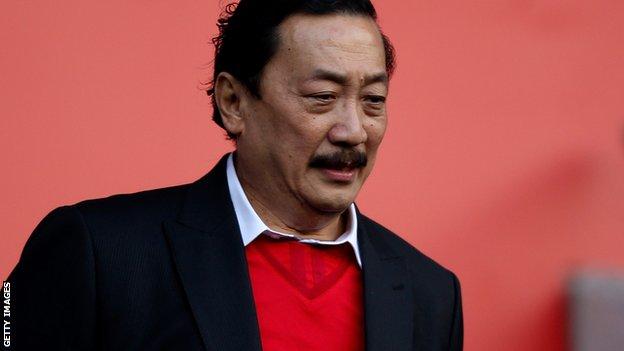 Aron Gunnarsson believes Cardiff City owner Vincent Tan has been an "easy target" for criticism during their first season in the Premier League.
The Malaysian, who changed the club's colours, insisted he is not the "villain" he is sometimes portrayed as.
"We are trying to focus on our thing, which is playing football. That's the only thing we can do but he's an easy target," Gunnarsson said.
"We are focusing on things and we've dealt with it quite well in the last three or four months."
Cardiff manager Ole Gunnar Solskjaer says a pep-talk from Tan before the defeat at Tottenham can inspire his side to Premier League safety.
The Bluebirds are 19th in the Premier League, three points behind 17th-placed West Brom having played a game more, and have won only one of their last six games.
The league management have asked the club for their observations after Tan offered players a cash bonus to avoid relegation.
The Malaysian withdrew his offer of £3.7m to the squad when it was made clear it was in breach of league rules.
The bonus promise was made before Sunday's 1-0 defeat by Tottenham at White Hart Lane.
"I didn't hear anything so I'm not sure what everyone's on about," Gunnarsson said of the bonus offer.
"But, like I said, he's an easy target."
Manager Solskjaer has targeted five wins if Cardiff are to have any chance of surviving and Gunnarsson says the players are ready to fight to stay in the top-flight.
Cardiff resume their Premier League campaign on Saturday against the only side beneath them in the table - Fulham.
"It's what you call a six-pointer," Iceland midfielder Gunnarsson said of the game at Cardiff City Stadium.
"It's going to be a hard game. We know they're fighting for the three points and they need the points as well.
"We want to stay in this league. We worked ever so hard to get into this league so we're not going to give up now.
"It's going to be hard, we know that. But we've got a few games coming up that we need to beat and we need to be on top form."
"Hopefully we'll keep on fighting and get the points we need because we desperately need them at the moment."