Cardiff v Fulham: Five tips for avoiding relegation
By Danny Murphy
Match of the Day pundit
Last updated on .From the section Football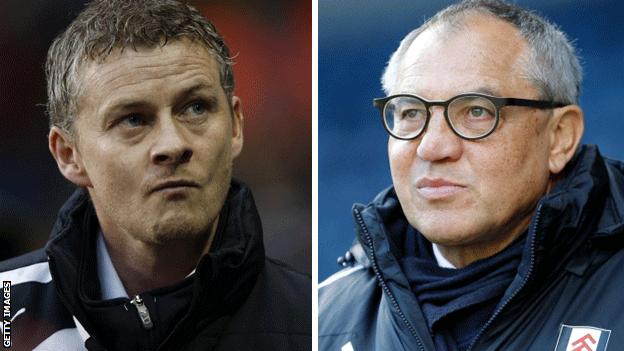 A world of trouble awaits the losing side when Cardiff meet Fulham on Saturday.
Nowhere in the Premier League this weekend will failure feel more pronounced as the bottom two sides attempt to kick-start what already looks an impossible fight for survival.
Both have new managers, owners experiencing the Premier League for the first time and a raft of new players recruited in January in an attempt to beat the drop.
New Fulham boss Felix Magath, whose side are bottom - a point behind Cardiff and four from safety - described the challenge facing him as the "most difficult" of his career, while his counterpart Ole Gunnar Solskjaer has struggled to make an impact since his appointment in January.
I scored on the final day of the season to keep Fulham in the top flight in 2007-08, so how can these sides avoid relegation this time?
1. Keep a cool head
The pressure builds week by week, game by game. When you reach the final 10 matches, as these sides have, you do start thinking "we could go down".
Until that point, players look at the fixtures and believe they will go on a run, but suddenly you realise the point has been reached where a miracle is needed.
In 2008, Fulham took 17 points from a possible 30 to survive. Both Fulham and Cardiff will surpass our end-of-season total of 36 if they can repeat that run.
The problem is, saying "it can be done" is only words. Doing it is another matter.
Make no mistake, much goes through a player's mind when reality dawns. Some players involved here have been promoted, some have come from overseas and they will almost certainly be on less money if they go down.
My contract was due to expire in the summer of 2008, so you could argue my contribution to our escape was fuelled by a desire to be offered a new deal. There is no doubt the impact on your livelihood, despite what footballers earn, enters your mind.
Players will also be more than aware that relegation will probably see a club restructured and staff in the background will have to be cut. These are the people they see every day and that can weigh heavily on your mind.
What is needed is calmness. Roy Hodgson came in with us in the relegation zone and one of his major assets was to be calm, even when it appeared for all the world we were going down.
He asked us to focus on playing to a certain level and not on results, points or survival. It worked and, in managing the pressure the threat of relegation can bring, both Cardiff and Fulham could embrace his settling approach.
2. It's bravery, not experience, that matters most

Much is made about having been through a relegation battle previously, but it only helps to a point.
Fulham have Brede Hangeland, who was pivotal for us in 2008, Scott Parker and Steve Sidwell. Cardiff boast players who coped with the scrutiny of winning promotion from the Championship.
So if experience is the key ingredient many say it is at this time of year, why are these clubs in this position?
Courage and a bravery to affect a football match is what is needed. Can a player get on the ball? Is he willing? The good players come to the fore, they do not hide and this, while often aided by experience, can come with youth too.
Cardiff have the worst goals-per-game ratio in the division (0.68), while Fulham leak on average 2.21 goals in each match - the worst in the Premier League. With this in mind, I see the first goal being hugely significant in south Wales.
3. Trust in your manager's methods
There was a point in our 2008 run-in when we were two goals down at Manchester City at half-time. We were going down and there was anger and frustration in the dressing room.
When emotion was evident at half-time that day, our manager Roy Hodgson kept his counsel, asked us to continue playing as we had - creating chances - and to win the second half.
Diomansy Kamara hit a late winner for us and we took six points from the final two games to beat the drop.
Hodgson's method was measured. In truth, Ole Gunnar Solskjaer and Felix Magath can, at this stage, only make similarly subtle tweaks.
Talk of overhauling fitness methods at Fulham comes too late in the day, as 28 games have passed and any player should be fit.
Cardiff and Solskjaer tried to change things by bringing in a number of players in January - a move I do not think can be seen as a bad decision as he clearly felt the squad needed a jolt.
As a player, you want to see your manager with a method and a belief. You can question it and raise your points, but if you can see he knows what he wants, then you have confidence in him.
4. Minimise the off-field upheaval
The owners of both clubs have played a huge part this season. They dictate the manager, who in turn influences the mood of the players.
Anger aimed at Cardiff owner Vincent Tan by frustrated supporters has undoubtedly impacted upon the players - they have felt that emotion. The team then struggle and the finger inevitably is pointed at the manager. So it's almost a self-fulfilling circle of events.
The most pronounced impact on players is the uncertainty. You may be playing for a manager you like, getting regular football and settled. Then an owner makes a decision and suddenly a new boss comes in. He may not be as keen on you and within three months you could be on the move with your wife and kids to a new part of the country. That kind of thing goes through a player's mind.
Fulham made a managerial change and then another 75 days later. For a club that has historically been so well run, it comes as a surprise and shifts moods among players and, most notably, supporters.
I was surprised with the choice of Magath given he has not worked in England before and am equally perplexed by the record signing of Kostas Mitroglou. Someone within the club must have been saying "he is the man to fire us to safety", yet he arrives for about £12m and is not fit.
It has been a tough year off the field for both these sides. They need the next two months to be peaceful if their actions on the field will be of the Premier League variety next season.
5. Find a hero - or two

Both these sides have failed defensively this season, with the 49 league goals conceded by Cardiff a total surpassed only by Fulham with 62.
It's a problem they must address and Fulham could now have a solid midfield base with Parker back in the fold alongside Sidwell, who with his box-to-box play and as their top scorer, has been their best player.
He must continue to do what he has been doing and one stand-out talisman is not necessarily vital. We shared the goals out in 2008, with Brian McBride and Clint Dempsey leading the way.
Cardiff have been short of goals and Solskjaer must try to rekindle Fraizer Campbell's early-season form.
Cardiff have the lowest shooting accuracy in the top flight (38%) and they really need Kenwyne Jones to ignite.
I've played against him and on his day, if he is in the mood, he is a force. Not so much in his goals, but with his all-round contribution.
The opportunity is there for someone to be a hero. But they have to go and grasp it.