Nicolas Anelka 'quenelle' gesture had 'anti-Semitic' link - FA panel
Last updated on .From the section Football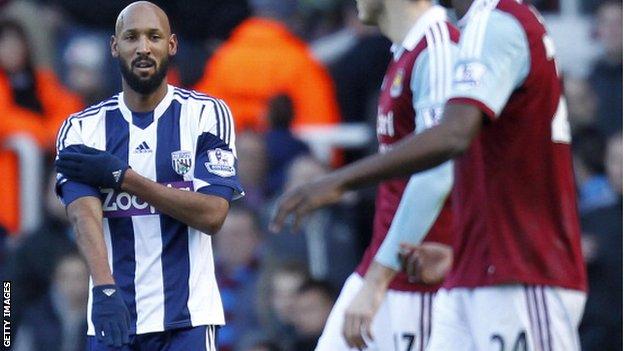 West Brom's Nicolas Anelka was banned for five games because the 'quenelle' gesture he performed is "strongly associated with anti-Semitism".
The independent panel that ruled on the case added that it was "not satisfied" Anelka "was or is an anti-Semite" or that he "intended to express or promote anti-Semitism".
It also revealed that the Football Association wanted a longer ban.
Anelka gestured after scoring against West Ham on 28 December.
After a two-day hearing, the 34-year-old French striker also received an £80,000 fine and was ordered to complete a compulsory education course.
The 'quenelle' has been popularised by French comedian Dieudonne M'bala M'bala, who is a friend of Anelka's but has seven convictions for anti-Semitic hate speech.
Anelka has denied the charge, an "aggravated breach" of misconduct which referred to "ethnic origin, race, religion or belief".
In the hearing, he maintained that the gesture only intended to "say hello" his friend. He also said he did not accept Dieudonne was anti-Semitic and did not know the controversy surrounding the comedian at the time he did the celebration.
The commission, however, found the celebration was "strongly associated with anti-Semitism" because it was "strongly associated with Dieudonne".
The three-man panel said: "We agree with the FA that is it not possible to divorce that association from the gesture".
Anelka, a former France international, now has seven days in which to appeal if he wishes to do so. West Brom have already suspended him until the outcome of the appeal process.
Anelka's five-match punishment is the most lenient that could have been imposed under the FA's new anti-discrimination rules, which were brought in for racism cases surrounding Liverpool striker Luis Suarez and Chelsea captain John Terry.
Suarez was banned for eight games after racially abusing Patrice Evra, while Terry received four games for abusing Anton Ferdinand.
In 35 pages of written reasons the independent commission compared Anelka's case with those recent incidents, highlighting that Suarez's ban came after the Uruguayan striker repeated offensive terms on at least five occasions while Anelka's was a one-off action.
It added: "Suarez's eight-match suspension was imposed for conduct with five identified aggravating factors including the repeated use of the word "negro" or "negros". In our view that was clearly a more serious example of an 'aggravated breach' than the Anelka case.
"Similarly, when Terry was decided there was no mandatory entry point; He was suspended for four matches for insulting an opponent [once]."