Celtic progress excites majority shareholder Dermot Desmond
Last updated on .From the section Football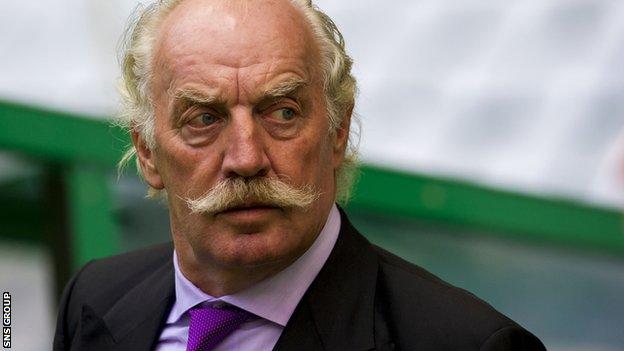 Majority shareholder Dermot Desmond thinks Celtic are the best performing club on and off the pitch in Britain.
He said the "balance-sheet performance and the performance on the field exceeds any other (UK) club".
And he qualified the claim by adding "we are shackled by lack of TV revenue and other comparable income".
Last month, Celtic, who are cantering to a third successive title, announced half yearly pre-tax profits of £21.3m and Desmond thinks the next 20 years can be even brighter.
Talking to Celtic TV he continued: "We have got financial stability, good organisational structures as far as scouting, development squad and coaching go. We have a vision of how we want to keep on improving the playing squad.
"If you look at the squads over the past few years, they are getting better and better each year.
"I see the club getting stronger on the playing field. I see the club being visionary in developing internationally. And I see the Celtic fans and the club having a partnership that will be a model for all other football clubs."
Meanwhile, Celtic have arranged a friendly against Bayer Leverkusen at Helsinki's Olympic Stadium on 2 August. Celtic Park is unavailable because it is being used to stage the opening ceremony for the Commonwealth Games.