Scottish Cup: Ibrox 'selfie' ban for Albion Rovers players
Last updated on .From the section Albion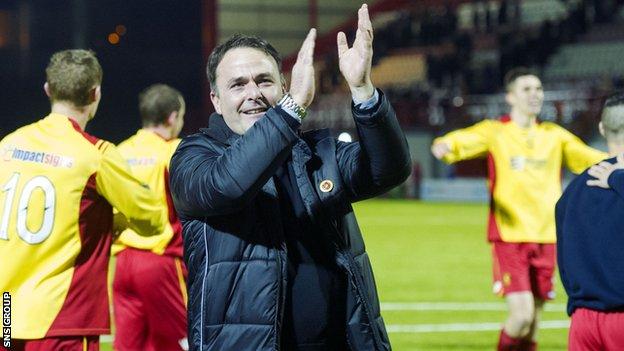 James Ward has banned his Albion Rovers players from taking pictures on their phones when they visit Rangers in the Scottish Cup quarter-finals on Sunday.
"I don't want anyone to think we are not taking this as seriously as it should be," the manager of the part-timers told BBC Scotland.
"This is a massive game for our club and we see it as opportunity for our group of players to progress.
"I don't want to belittle that in any way by making it a day out."
Rovers sit seventh in League Two and lost to Montrose at the weekend, while Rangers are strolling to the League One title.
There may only be one division separating the sides but there is a huge gulf in every other respect, with the Coatbridge club averaging less than 500 spectators for home league matches this season.
Yet Ward remains convinced Rovers can cause another cup shock and reach the semi-finals, having earlier bundled Premiership side Motherwell out of the tournament.
"This is a game we really want to give our best in," he said.
"We can win and we'll do that by being fully committed to what we are doing on the day.
"Rangers will need to play at their level to beat us, it won't be because we have put in a poor performance."
Rovers have not been this far in the Scottish Cup for 80 years and Ward admits it is the biggest game of his career.
However, he added: "I hope it's a stepping stone to bigger games because you never know what Sunday is going to bring.
"Our players definitely have belief that they can win.
"No better example of that was against Motherwell. Our team is organised, we are disciplined, everybody knows what is expected of them and they grew in confidence as that game went on.
"We won the game - justifiably - because when we were in possession we were more effective.
"Sunday is going to be similar. There are so many factors I can't control, like the size of the crowd and how our players will react to walking into an arena like that.
"I'm hoping a lot of them get a lift from it, which will compensate for the one or two who are maybe a bit more nervous.
"Hopefully we can grow into the game once more and capitalise on any nervousness from their fans and potentially from their players."