QPR: Chairman Tony Fernandes says promotion is 'not critical'
Last updated on .From the section Football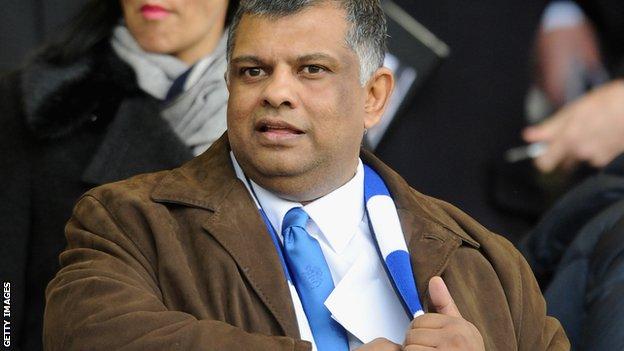 QPR chairman Tony Fernandes says it is "not critical" for the club to win promotion back to the Premier League this season despite their £177.1m debt.
Rangers, who are fourth in the Championship, lost £65.4m as they were relegated last season.
"Achieving promotion this season is not critical to our long-term strategy, but remains our short-term goal," he said.
"If we fail, the support is there and there is no need for any more advances to build a squad."
He added: "We are now in a position where we can work with what we have, and raise capital to invest in the squad by selling players who are not part of the manager's plans."
QPR's accounts revealed that in making last season's loss the Loftus Road outfit spent £41.1m in transfer fees, although it was not enough to keep them up.
But Fernandes insisted that the bulk of the club's debt is owed to shareholders.
Parent company QPR Holdings Limited received £72.7m in shareholder financing during the financial year 2012-13, while the company also took out a short-term bank loan of £15m. Shareholders had invested £38.7m in the previous financial year.
"Every great endeavour needs support in the short term. Every business requires capital to get off the ground," he said in a statement on the club website.
"It is important to understand that this debt is through shareholder loans. The debt in the club is owed to the shareholders by the shareholders."
Despite the figures, Fernandes said he and his fellow shareholders are "fighters" who are "committed and here for the long term".
"Relegation wasn't part of the plan and it has cost us financially and emotionally," he said.
"We are all fully committed to QPR in the short, medium and long term and are 100% focused on delivering our vision for the club.
"Promotion back to the Premier League is a major challenge, but one we are committed to."
Malaysian businessman Fernandes, who also owns AirAsia and is team principal of the Caterham F1 team, took over QPR in August 2011.
"When we bought this club there were no assets," Fernandes's statement added. "We had to build from the ground up.
"Now we have great assets and we are in a position where we can use this asset base to develop our squad, without the need to invest new capital."
Following relegation last summer, QPR have been active in reducing their wage bill by off-loading several high earners on loan, while also selling players such as defender Christopher Samba.
Rangers trail leaders Leicester by 17 points and are nine points adrift of Burnley, who currently occupy the other automatic promotion place.
And should they fail to go up, similar losses in QPR's accounts for this season will see the west London club subject to sanctions from the Football League under Financial Fair Play (FFP) rules, which permit an £8m loss, £5m of which can be covered by shareholders.
Any team remaining in the second tier that falls foul of FFP rules will be subject to a transfer embargo until they can prove their financial results are in line with the regulations, while a team promoted to the top flight will be subject to a fine, which is operated on a sliding scale.