Hibs: Lift ban on Well fans' drum, urges Keith Lasley
Last updated on .From the section Football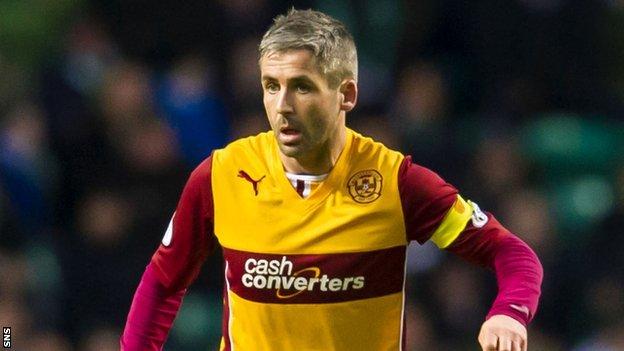 Motherwell captain Keith Lasley has joined the club's fans in urging Hibernian to lift the ban on their drum - after being told it was too noisy.
Hibs say they have responded to complaints from supporters by banning the floor tom drum from Saturday's Premiership game at Easter Road.
Lasley said on Twitter that he backed the call from the Well Society.
"Surely anything that improves the atmosphere in a Scottish football ground should be encouraged," he said.
Graham Barnstaple, chairman of the Well Society which has two representatives on the club's board, said: "It is with great disappointment we have heard of the decision by Hibs to ban the Motherwell drum from Easter Road on Saturday.
"Particularly with the reason being given as 'there had been complaints about it making too much noise'.
"At many games this season, both home and away, if it hadn't been for this section of our support, there would have been no noise at games and no real atmosphere to provide a backdrop to the game.
"With attendances under pressure at many grounds across Scotland, we should be doing whatever we can to encourage people to come along to games and enjoy the match-day experience.
"This decision will discourage some of our fans from attending and dampen the atmosphere for those that do.
"We therefore ask the board of directors at Hibernian to reconsider this decision."
A Hibs spokesperson said: "In general, we don't ban drums at Easter Road - unlike many other stadiums. However, most fans that bring drums bring bass drums - this one is a snare drum which is much more intrusive.
"At the last match against Motherwell at Easter Road - when the snare drum was used - we received numerous complaints, both from Hibernian and Motherwell fans. That is the reason the decision has been taken."
Motherwell manager Stuart McCall expressed surprise at the decision, given most clubs' attempts to get more fans to attend games.
"Is this at church? Are we talking about a football ground? A drum was too noisy?" he said.
"The lads that do come along with the drum, both home and away, make it a far better atmosphere.
"If that is the case and there's a lot of Motherwell fans not going, I think that's really disappointing, especially in the size of stadium Hibs have got.
"I find it a strange decision and disappointing. I've been to a few Hibs games and they have got a drum. So unless he's lost his drum and it's not fair that we've got a drum, I think it's strange."