Wrexham: Billy Barr in 'pole position' for full-time role - Sinclair
Last updated on .From the section Football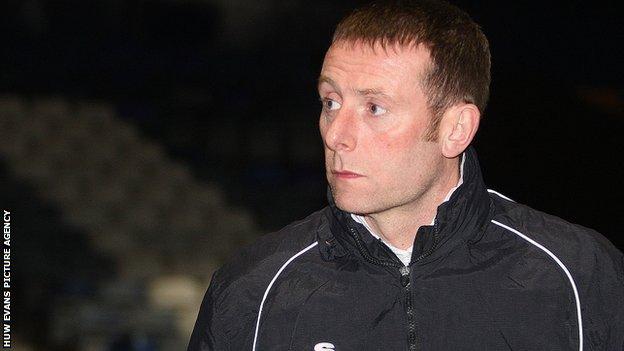 Frank Sinclair has said caretaker boss Billy Barr is in "pole position" to get the Wrexham manager's job on a permanent basis.
Ex-Wrexham defender and current Colwyn Bay boss Sinclair has ruled himself out of the race to succeed Andy Morrell.
Barr, who has been in temporary charge since Morrell's departure, has said he wants the job full-time.
"If he does a good job then he's in with a good shout," Sinclair said
"He's made the statement that he wants the job so as far as I'm concerned he's in the pole position until they do appoint anybody else. The ball is in his court."
Barr, Morrell's former assistant, has been in charge of two games presiding over a 5-0 defeat at Conference Premier leaders Luton Town and a 2-0 win at Hereford.
Former Chelsea, Leicester and Jamaica defender Sinclair, who played for Wrexham for two seasons under Dean Saunders, says Gary Brabin is another strong contender.
Brabin, previously manager of Cambridge United and Luton Town, has declared an interest in the role and Sinclair believes he could do a good job at the Racecourse.
"A very good friend of mine is Gary Brabin, who did a fantastic job at Luton and got manager of the year a couple of seasons ago I believe," Sinclair told BBC Wales Sport.
"He fits the bill. I know he knows a lot about the football club and has made it known he wants the job.
"I don't think you could go for any further wrong than someone like him with the character I know of him. He's a tough man and he demands good performances and the best out of players."
Sinclair himself has no interest in becoming the new Wrexham manager and said he had not discussed the position with Dragons chief executive Don Bircham.
The 42-year-old says Wrexham need a more experienced manager with Sinclair himself having only been in charge of Conference North Colwyn Bay for 12 months.
"As far as I'm concerned my loyalties lie at Colwyn Bay," Sinclair said.
"We've enjoyed a very good season this season and things have progressed brilliantly at the football club compared to last year.
"We're competing at this level a lot more comfortably and I'm just basically going to finish what we've started this season and try and get the club as high as possible in the league.
"There is a big association with me and Wrexham. I played at the club for two years under Dean Saunders.
"But I'm quite happy with how things are progressing for me as a manager and I still think I've got a lot to learn.
"This isn't quite right the time for me to be going into such a big job. I think a more experienced manager will suit that role a lot better.
"This is a fantastic stepping stone for me to learn my trade at Colwyn Bay. I want to manage at a higher level eventually and work my way up the ladder."