Mark McGhee hails Gordon Strachan's Scotland approach
Last updated on .From the section Football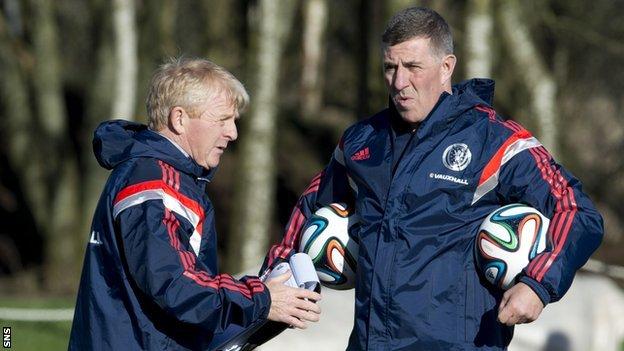 Assistant boss Mark McGhee credits the improvement in Scotland's results of late to manager Gordon Strachan's tactical decisions and work ethic.
"The other thing is his preparedness to make the players work hard.
"From the moment we get to the training camps, we are training almost all the time and resting in between."
Speaking on BBC Radio Scotland's Sportsound programme, McGhee added: "When we train it is productive. It is coaching, not just training.
"Each session we've had I think it has brought progress and I've been really impressed with that."
Confidence within the Scotland squad continued to be rebuilt with the 1-0 win in Poland in midweek. That made it five games without defeat and four clean sheets on the trot.
Scotland finished their World Cup qualifying campaign with victories away to Macedonia and at home to Croatia, though hopes of going to the finals in Brazil had long since been extinguished.
The Scotland assistant manager highlighted the structure of the team under Strachan as a key part in the team's recent revival.
He said: "Although in the modern game we more or less have to accept that you can only have one main striker, he was very determined that there should be a player close enough to make that two whenever possible but still able to help in the midfield.
"He has achieved that with the 4-4-1-1 that we are playing."
In that formation, Steven Fletcher has often been the main striker, with the likes of Steven Naismith or Robert Snodgrass adding to the attacking threat.
McGhee said of the game in Warsaw: "There was an awful lot of good about the performance.
"Of course there were things to take away to analyse and make right for the Nigeria game
"But the result keeps the run going and the performance was encouraging and consistent with other performances that have gone before.
"I don't doubt there has ever been a lack of pride in the performance, however it has looked.
"We have now found a way of translating that pride into results.
"That is a great thing. It breeds confidence and that desire to be part of it.
"We are seeing a group of players who are competing for places and who want to be in the squad. That can only be good for the campaign that is coming up."
Looking ahead to the game against Nigeria, McGhee, who says it is "an amazing experience" being part of the Scotland set-up, predicted an entertaining match at Craven Cottage.
"It will be a different mentality to play against a team who are not only from a different continent but who are going to play in the World Cup," he said.
"We can see how they do at the World Cup and it will give us a measure of how we're doing.
"I think there will be goals. We won't be going there and parking the bus."