Robbie Savage: Attack the only option for Manchester City
Last updated on .From the section Football

In his regular BBC Sport tactics column, Robbie Savage looks at what appears an impossible task for Manchester City.
City were beaten 2-0 at home in the first leg of their last-16 tie against Barcelona, and it is difficult to see them turning that deficit around at the Nou Camp.
A penalty and red card helped kill off City in the first leg but they were already a distant second best in terms of passing and possession when they were reduced to 10 men. That is likely to be the same in the second leg too.

So City boss Manuel Pellegrini not only has to win, he has to do it without having the dominance of the ball City are used to when they play in the Premier League.
Best in Premier League, but not in Europe
In the first leg against Barcelona, we saw the difference between the best teams in Europe and the best in the Premier League when it comes to keeping the ball.
Premier League ranking 2013-14

Possession

Passes per game

Passing accuracy

1. Swansea (59.9%)

1. Swansea (589.6)

1. Man City (86.4%)
2. Man City (58.6%)

2. Arsenal (569)

2. Swansea (86.2%)

3. S'hampton (58.4%)

3. Man City (549)

3. Arsenal (85.9%)

4. Arsenal (57.3%)

4. S'hampton (505)

4. Man Utd (84.1%)

Stats: Opta
In those categories, City and Arsenal are two of the top-ranked teams in England's top flight but, even when it was 11 v 11, they could not compete with Barca or Bayern - who comfortably knocked out the Gunners over two legs.
In the first half at Etihad Stadium, City had just 32% of possession after camping on the edge of their own box. City are used to seeing less of the ball when they play in Europe, but I still don't understand why they chose to let Barca dictate the play in the first leg.
Champions League League ranking 2013-14

Possession

Passes per game

Passing accuracy

1. Bayern M (69.5%)

1. Barcelona (755.2)

1. PSG (90.9%)

2. Barcelona (68.4%)

2. Bayern M (727.9)

2. Barcelona (90.7%)

3. PSG (64.6%)

3. PSG (687.1)

3. Bayern M (90.4%)

4. FC Porto (60.3%

4. Real Madrid (576.1)

4. Real Madrid (88.2%)

10. Arsenal 52.2%)

5. Arsenal (550.43)

6. Arsenal (84.4%)

19. Man City (47.2%)
16. Man City (457.3)
9. Man City (83.7%)

Stats: Opta
City did not see as much of the ball as usual and, crucially, they were unable to make much use of it when they had it.
That was because Barca do not just keep the ball well, they also immediately press hard to win it back high up the pitch when they lose it.
Only a handful of teams would try that against City in the Premier League.
Southampton have done it, and Liverpool too, but most choose to retreat into their own half, like Sunderland did against City in the Capital One Cup final.
Attack the only option for City
It is win or bust for City, so what I would definitely not do is what they did in the first leg, which was sit back rather than take the game to Barca.
I was at Etihad Stadium and it was a strange approach by Pellegrini. He started by shutting up shop but, when Martin Demichelis was sent off and City went 1-0 down, he tried to get the goal back.
They actually went for it more in the last half-hour, when they had 10 men, and the second Barcelona goal virtually finished off City's hopes.
Now they need to go for it from the start in the second leg, and I think Pellegrini will play with two strikers, Sergio Aguero and Alvaro Negredo, at the Nou Camp instead of one, which is what he did in the first leg.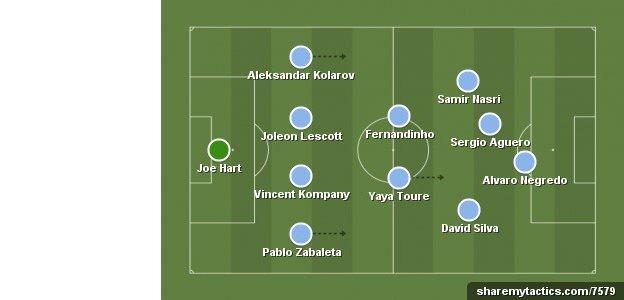 Samir Nasri and David Silva's focus should be on hurting Barca, not tracking back. And, if Pellegrini tells Fernandinho not to go any further than the halfway line, he can try to get Yaya Toure forward more as well.
The speed of City's attacks will be vital because Barca are so quick to reorganise when they lose the ball.
So, however Pellegrini plays it, it should be an attacking line-up, with the full-backs looking to get up the wings to help his five offensive players.
I am not saying it is going to work, because I do not believe City can go there and win, but they have to try - because if they stay deep again, it will just be a slow death.