Nigeria adopts code of conduct
By Oluwashina Okeleji
BBC Sport, Lagos
Last updated on .From the section Football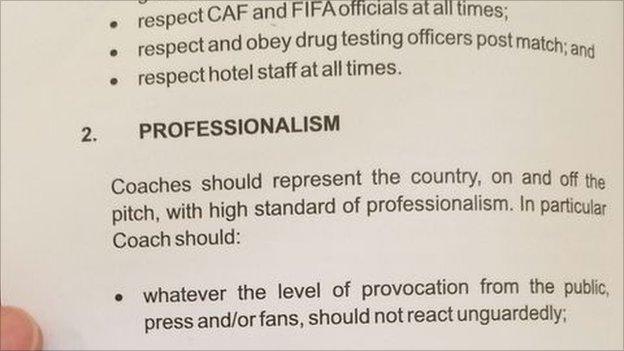 Nigeria has adopted a code of conduct which is designed to make player bonus rows a things of the past.
The code has been devised by the Nigeria Football Federation (NFF).
The 18-page document spells out the obligations of the NFF, coaches and players called up to the national team.
It also sets forth expected standards of decorum for all players and makes it clear that violations could result in disciplinary action, fines, suspensions or even expulsions.
The code of conduct has not been made public but has been leaked to BBC Sport.
"Players and officials got a booklet each in Atlanta this week," said Super Eagles media officer, Ben Alaiya.
He added: "The NFF president [Aminu Maigari] took time explain to players and officials the importance of this code of conduct.
Several attempts to introduce a code have met with stiff resistance from players in the past.
But the NFF is desperate to avoid a repeat of the dispute that almost caused the Super Eagles to miss last year's Fifa Confederations Cup in Brazil.
The NFF's decision to reduce bonuses from $10,000 for a win and $5,000 for a draw to $5,000 and $2,500 respectively upset the players so much that they came within a whisker of boycotting the World Cup dress rehearsal.
The Sports Ministry intervened and made extra money available, eventually allowing the squad to travel to Brazil - two days late and only about 36 hours before Nigeria's opening game against Tahiti.
The parlous state of the NFF's finances has led led to a cut in backroom staff across all national teams.