Samuel Eto'o & David Meyler: Are celebrations among the best ever?
Last updated on .From the section Football550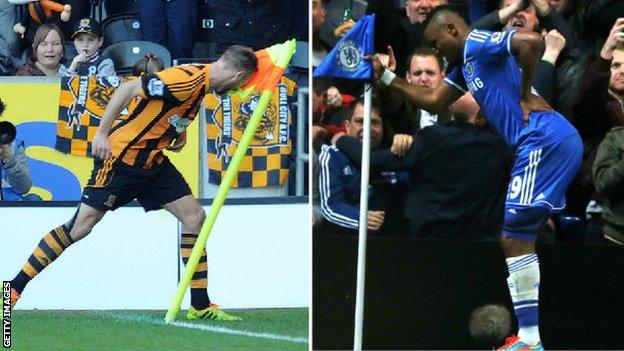 Both Samuel Eto'o and David Meyler raced to the corner flag to turn controversy into light-hearted celebration this weekend.
Chelsea's Eto'o, pounced in a flash to score against Tottenham before quickly adopting his "elderly man" pose in response to recent disparaging comments about his age by manager Jose Mourinho.
Less than 24 hours later Hull's Meyler hit the net against Sunderland and headbutted the corner flag, a week after being on the end of the same treatment from Newcastle manager Alan Pardew.
Both celebrations showed personality, made light of unsavoury headlines and underlined that footballers are constantly able to reinvent the art of celebrating a goal.
So what other ways have players found to showcase their joy? And which is the best?
1. Roger Milla dances at Italia 90
Each time he scored, Roger Milla, like Eto'o, made straight for the corner flag, though his movement when he got there was a little more dynamic than Eto'o's.
Milla found the net four times at Italia 90 as Cameroon reached the quarter-finals. He was 38 at the time and, seemingly, quite a mover.
The corner flag must hold some sort of magnetic power for goalscorers. Lee Sharpe danced near it during his time at Manchester United, Tim Cahill shadow-boxed it at Everton and Steven Gerrard kisses cameras near it.
2. The man in the mask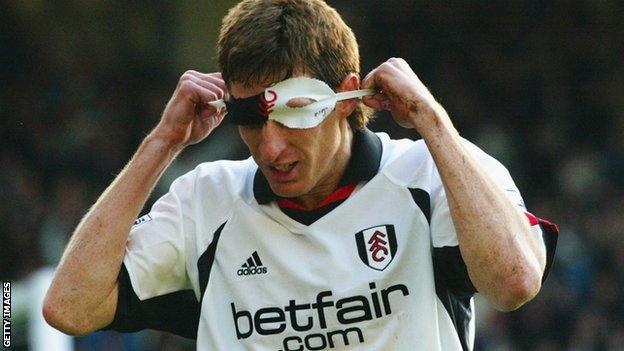 He may have only scored six times in 27 league appearances at Fulham but Facundo Sava made sure he was remembered. When the Argentine found the net, he would reach for his sock, pull out a mask and well, the rest is obvious.
For a brief time, Zorro at Craven Cottage was a familiar sight.
3. Bullard gives Phil Brown a talking to
Hull City were 4-0 down before half-time at Manchester City in December 2008 and manager Phil Brown stopped his players from going into the dressing room, instead sitting them on the pitch at Etihad Stadium and letting rip in front of a packed crowd.
The following season, at the same venue, Jimmy Bullard equalised and with Brown sat in the dugout, his midfielder decided to recreate the scene from 11 months earlier.
"I couldn't deliver my post-match speech as I was laughing so much," Brown said afterwards. "The whole thing was timed to perfection."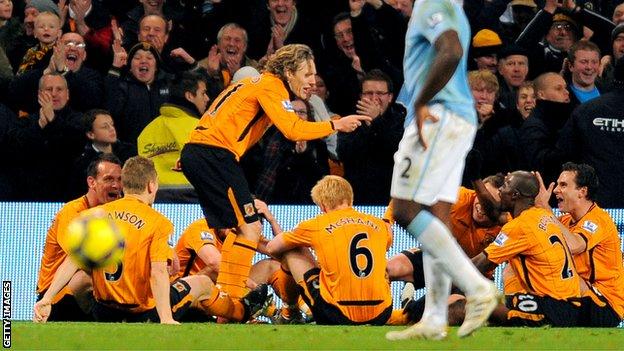 4. Fore
He headed Liverpool level at Barcelona in 2007 and executed a golf swing which would not have looked out of place at Augusta National.
It sounds largely uneventful, but Craig Bellamy was hitting back at pre-match headlines about him attacking team-mate John Arne Riise with a golf club.
Liverpool went on to win the game 2-1, with Riise netting the second.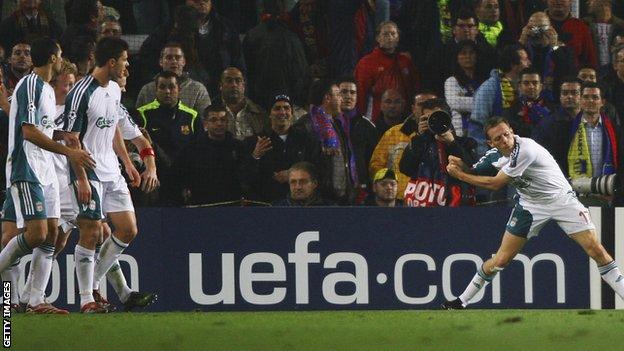 5. The dentist's chair
Paul Gascoigne's goal for England against Scotland at Euro 96 needed no glitzy celebration, such was the quality of a solo effort which sealed a 2-0 win.
Never one for shying away from the limelight though, Gascoigne used the moment to recreate an image which had made its way into national papers in the run-up to the tournament.
A group of England's players had been pictured enjoying a night out in Hong Kong, with striker Teddy Sheringham seen having drinks poured into his mouth while reclining in a chair.
Cue Gascoigne, Scotland, Wembley and a conveniently-placed sports bottle near the goalmouth to make light of the unwanted headlines.
6. Ravanelli shows some belly
This was the chosen celebration for junior footballers the length and breadth of the country at the time.
Italian Fabrizio Ravanelli took to life at Middlesbrough with a hat-trick on his debut against Liverpool and the shirt-over-the-head routine suddenly caught on.
It was simple, yet strangely captivating.
Ravanelli was on Teesside for just one season and quickly found out that a British winter would mean he required under garments.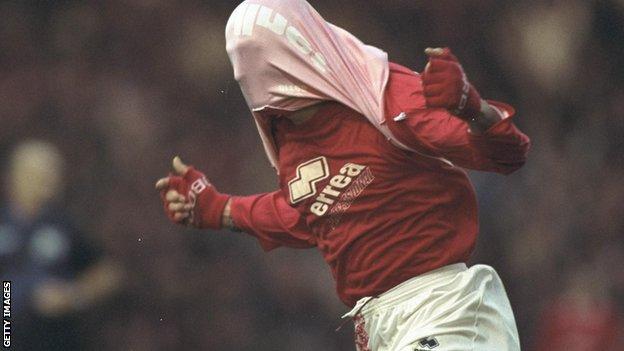 7. LuaLua's leap
Do not try this at home. Unless of course you are due to head to the Rio Olympics to win gymnastics gold.
Lomana LuaLua - once of Newcastle and Portsmouth - needed his own postcode to perform his customary celebration.
Somersaults, back-flips and cartwheels were all on show. Blink and you missed it.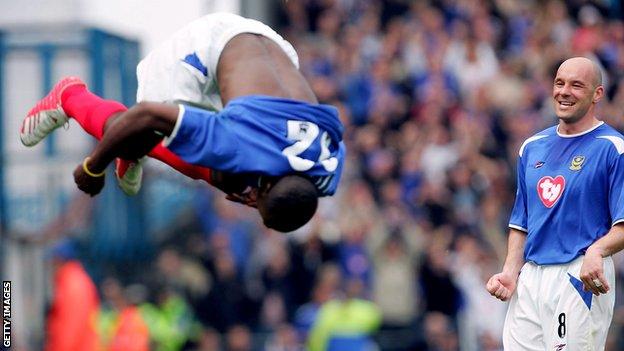 8. Why always me?
You score, lift your shirt and reveal a message. Nothing new there, but when Mario Balotelli does it, you know there will be fireworks.
Indeed, on the eve of Manchester City's 6-1 demolition of Manchester United, fire crews were called to the Italian's multi-million pound home, where fireworks had been set off from the bathroom.
Balotelli hit the opening goal at Old Trafford and the message under his shirt read: "Why always me?"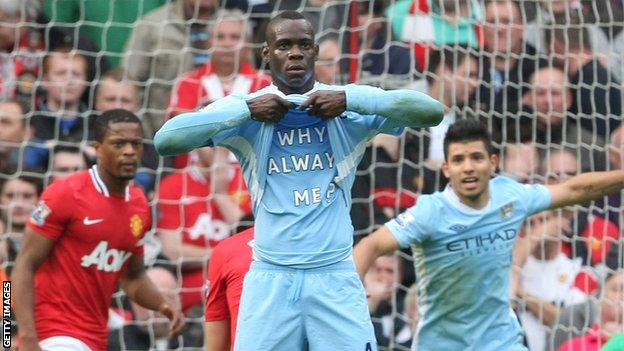 9. Welcome to the world
Brazilian Bebeto hit the net in the World Cup quarter-final against Netherlands in 1994 and celebrated both his goal and the fact his wife had given birth to their third child days earlier.
That child, a boy called Mattheus, now plays for Flamengo, and Bebeto's cradle motion has been copied by players new to fatherhood many times since.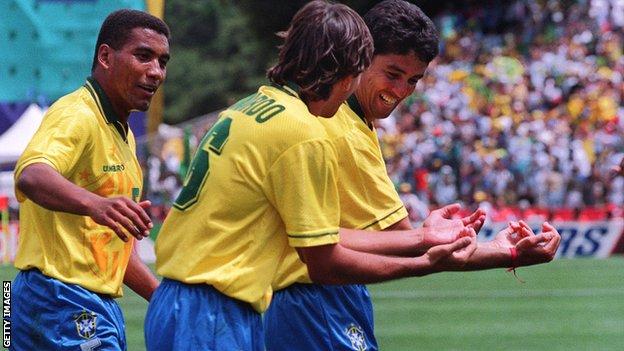 10. Point to prove
We have seen players point at the name on the back of a shirt to confidently tell a manager they should be a first-team shoo-in, but David Ginola had a somewhat different point he wanted to make.
His manager at Aston Villa, John Gregory, had said the Frenchman was "carrying a bit of timber", so after equalising against Manchester City, Ginola summoned his inner Mr Universe and tensed up for the cameras.