Blackburn v Burnley: Clarets fans celebrate first win in 35 years
By Karen Fazackerley
BBC Sport
Last updated on .From the section Football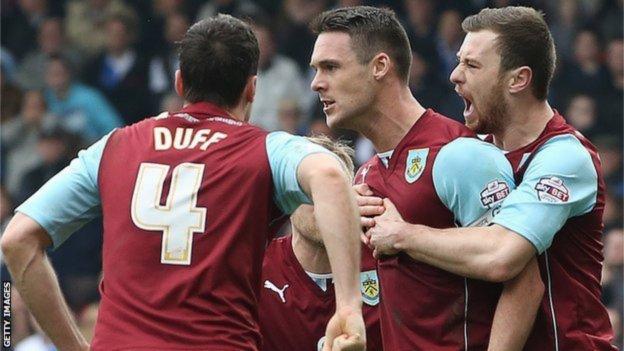 The last time Burnley beat their east Lancashire rivals Blackburn Rovers, James Callaghan was Prime Minister, Nottingham Forest were the defending First Division champions and Gloria Gaynor's 'I Will Survive' was top of the charts.
Burnley's 2-1 win at Ewood Park on Sunday was their first victory in a Cotton Mill derby since 14 April 1979 as they moved eight points clear in second place in the Championship and a huge step closer to promotion to the Premier League.
Clarets defender Michael Duff was the only member of either squad born the last time Burnley beat their bitterest of rivals, and the 4,500 fans making the 12-mile trip savoured every moment as goals from Jason Shackell and Danny Ings brought an almost 36-year winless run to an end.
David Salmon, at the match with his son, was one of the Burnley supporters to have experienced a derby-day win before.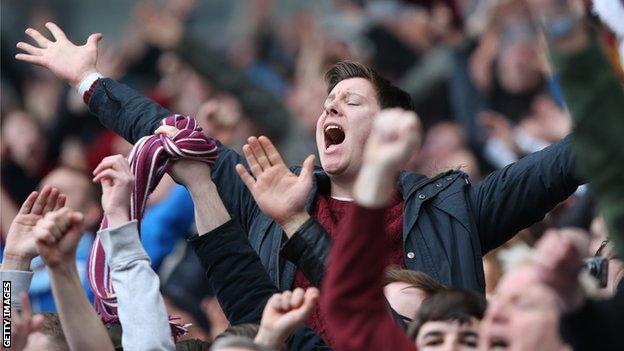 "It's like when we went to the Premier League, it just doesn't sink in for a town like Burnley to do something as great as that. But the euphoria is there," he said.
For his son David, Sunday's events were a unique experience.
"I was two the last time Burnley beat Blackburn," he said. "The first time I went to Ewood we got beaten 2-1 and it's been heartbreak ever since really. It's been one of the best days of my football-watching life.
"I don't think I've felt anything like it when that winning goal went in."
Burnley fans have always been quick to point out that their winless run actually only amounted to 11 matches, but since that victory in 1979 they have had to watch Blackburn lift the Premier League trophy and taste European football, with internationals like Alan Shearer, Tim Flowers and Andy Cole gracing the Ewood Park turf.
"It hurts like hell," said Rovers fan Kamran Inayat, 38. "I have never experienced a defeat in a derby before and it does hurt to have lost the long unbeaten record.
"The 35-year record is a thing that Rovers fans used to wind up Burnley supporters with. It is really funny that we have won the Premier League and the League Cup but whenever we talk to Burnley fans we reminded them how long it was since they beat us."
Burnley have their own proud history, of course. They have won the First Division title twice, were European Cup quarter-finalists in 1961 and are past FA Cup winners.
Even in more recent times, they have enjoyed promotion to the Premier League - where they beat Manchester United - and were League Cup semi-finalists back in 2009.
But it has not been sufficient to dent Rovers fans' sense of innate superiority, according to Clarets fan Chris Johnson, born a year after the 1979 win.
"Even when Burnley were promoted to the Premier League and then when Blackburn were in the Championship, Burnley were always seen as a step below them for what they had achieved over the years," he said.
Burnley can now boast a 23-point gap between themselves and Blackburn in Championship - the biggest ever between the sides while in the same division.
And with Blackburn, relegated from the Premier League in 2012, six points away from the play-off positions, they are in danger of starting next season a tier below Burnley for the first time since 1980.
If the one-upmanship sounds parochial, it is a footballing rivalry with a long, and fierce, history. The first of the 101 meetings between sides from the two old Lancashire mill towns was way back in 1879 - a 4-2 win for Rovers at Turf Moor.
In fact, Burnley lost their first six league meetings with Blackburn and only earned their first win in controversial circumstances on 12 December 1891.
In snow and strong winds, Burnley had moved into a 3-0 lead when Blackburn's players, bar goalkeeper Herbie Arthur, left the Turf Moor pitch and refused to continue playing. As Burnley went forward in the next attack, Arthur appealed for offside and the referee abandoned the match and awarded Burnley the win.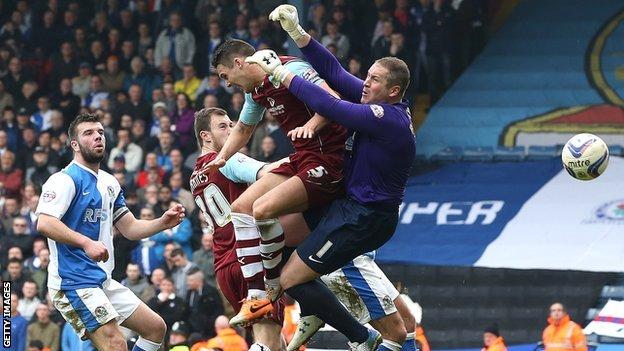 Burnley have added another 39 wins since that first one, to their rivals' 41, and the contest has never wanted for intensity. Former Blackburn boss Graeme Souness has been involved in derbies in Liverpool, Glasgow and Istanbul but described the east Lancashire derby as "a proper game - it really is something else".
The rivalry has seen Blackburn fans hire a plane to fly over Turf Moor with a banner celebrating Burnley losing in the Division Four play-offs in 1991 and Burnley supporters seek revenge by arranging for a plane to fly over Ewood Park to mark their Premier League relegation in 2012.
Such is the ferociousness of the feeling, Burnley fans could only travel to Sunday's match on official coaches from Turf Moor, while Blackburn Rovers fans were forced to travel under similar restrictions in the 1-1 away draw earlier this season.
The strength of feeling is reflected in the local press.
"It sounds daft but it was almost better than Wembley [the victorious 2009 play-off final] for me," said Chris Boden, sports editor of the Burnley Express.
"When you live and work with these people, and I've had it all my life, it's great just for once to be able to turn around and say something back."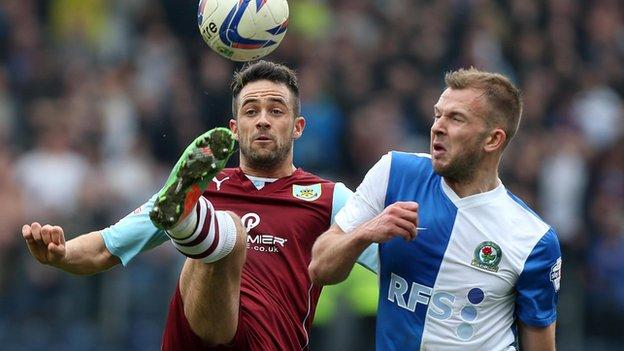 "The derby means a massive amount and this unbeaten record has magnified it even more. It is just intense," said the Lancashire Telegraph's Blackburn Rovers reporter Paul Wheelock.
"This will devastate Blackburn fans. There was always going to come a time but it is just the fact a win today would have moved them towards the play-offs but now there is such a big gap and it looks for all the world that Burnley are going up."
Not only that, but with Blackburn's last victory against Burnley coming back in in March 2010, perhaps a new statistic has been born.
"I'm 39 and I've been to hundreds of grounds covering Burnley and yet I've never seen them beat Blackburn - until today," said Boden. "We've never had a retort to them.
"They come all the time with the '34, 35 years' thing and you take it. And now it's just nice to say '2-1…. Four years'."