Manchester City quadruple dreams ended by one of their own
By Chris Bevan
BBC Sport at Etihad Stadium
Last updated on .From the section FA Cup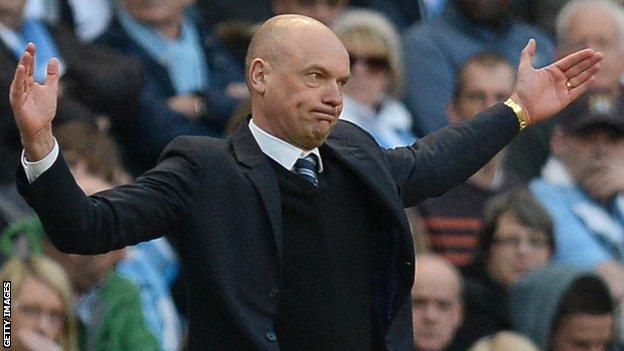 Wigan boss Uwe Rosler witnessed plenty of misery during his time playing for Manchester City in the 1990s, when they were relegated twice.
Rosler saw more of the same at Etihad Stadium on Sunday, but the difference this time was that he was the man responsible for the home side's disappointment.
For City were not just dumped out of the FA Cup on home territory by a Championship side; their hopes of a domestic treble were left in tatters by one of their own.
Rosler did not just play for City, he was hero-worshipped by their fans for his efforts during some of the club's darkest days that saw them tumble from the top flight into the third tier.
The feeling was mutual. The German has named his two sons after City legends Colin Bell and Tony Book, attended many of the club's recent triumphs, and has photos of himself in a sky-blue shirt all over his house on the outskirts of Manchester.
City fans helped him recover from non-Hodgkin's lymphona, a form of cancer, in 2003 with their support from afar. Therefore, they were always going to give him a rapturous welcome when he was back in town - even if on this occasion he was the opposing manager for the first time.
It made for slightly surreal viewing. Some home supporters wore old replica shirts with Rosler's name and number - 28 - on the back. Everyone sang his name before kick-off, and cheered when he waved back. Then they sat back expecting to see him put to the sword.
It did not not happen, and in a way it was fitting that City marked the return of their former hero by starting the game with the sort of non-performance that he will remember being a part of so often on the pitch.
Rosler's bold and inventive tactics played their part too, of course, and he made for an animated and entertaining figure in his technical area as he bellowed instructions to his players.
They listened to their manager, hassled and harried City, and it worked. Better than anybody expected.
The 45-year-old had said in the build-up to the game that he would have to struggle to keep his emotions in check, but he was probably not expecting to have to hide his unbridled joy at seeing his side score not once but twice.
Admirably, given he was on his way to his biggest managerial scalp since taking to the dug-out in 2005, Rosler managed it.
There was no celebration when Jordi Gomez put Wigan ahead from the penalty spot, nor when James Perch doubled his side's lead after more poor defending by City.
Both times Rosler just took a deep breath and a sip of water and sat down for a few moments. The rest of the day, he was on his feet, kicking every ball.
At full-time, as the Latics players and fans bounced in jubilation, he shook hands with City boss Manuel Pellegrini and disappeared down the tunnel.
In his press conference Rosler revealed he was "drained" and "happy" but if it meant a lot to him to beat City, he did not show it, and he quickly explained why.
"This club has been very respectful to me," Rosler said. "The reception I got was tremendous.
"I also felt I was very respectful in that I did not celebrate after the final whistle. Everybody knows the bond and ties I have with this club and that will never change."
The result means City and Rosler have another link, and a new memory to share, even if it is only a good one for Rosler.
Before kick-off, he had insisted the game was not about him. Afterwards he lavished praise on his players, whom he insisted deserved all the credit.
He was wrong: This was Rosler's day, something that might offer some consolation to even the most disappointed City fan in defeat.