Wolves complain to Walsall and FA about racial abuse
Last updated on .From the section Wolves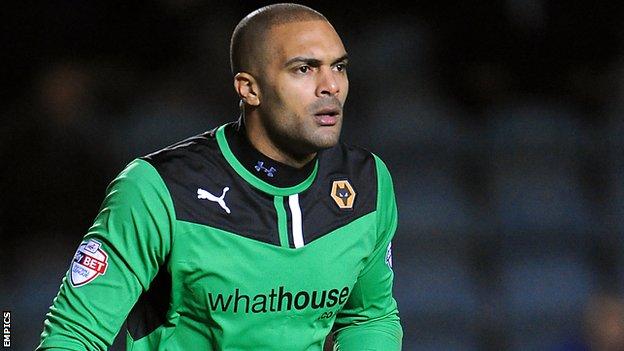 Wolves have made an official complaint to Walsall and the Football Association after two players reported they were racially abused at Banks's Stadium.
The abuse allegedly came from behind Ikeme's goal during the second half and in the first half as Elokobi warmed up.
Wolves said the complaint related to a "small number of individuals".
A club statement added: "Wolves will always strongly support its players who are the victims of discrimination, and Carl Ikeme and George Elokobi both displayed admirable restraint in the face of receiving the abuse on Saturday."
Walsall said they would fully co-operate in an investigation and issue a ban to anyone found guilty.
"We are taking this matter very seriously and will fully co-operate with West Midlands Police and Wolverhampton Wanderers throughout this investigation," the Saddlers said in a statement on their website.
"Both Wolves and Walsall are fiercely committed to stamping out all types of discrimination within football and will vigorously investigate any and all allegations of racist abuse.
"Should anyone be found guilty of the above allegations, they will be issued with a lifetime ban from Banks's Stadium."