David Murphy: Birmingham City career 'difficult, but enjoyable'
Last updated on .From the section Football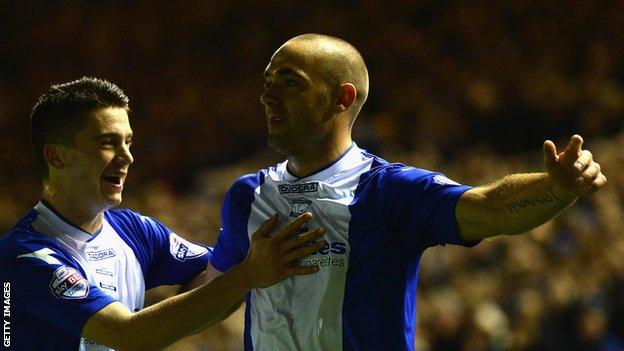 Ex-Birmingham left-back David Murphy has described his time at the club as "difficult, but enjoyable" after a knee injury forced him to retire last week.
The 30-year-old suffered a series of injuries but was a fans' favourite after spending six years at St Andrews.
Murphy told BBC WM: "I couldn't sustain playing. It wasn't going to happen.
"I was fortunate to win a cup with Hibernian, promotion to the Premier League with Birmingham and the League Cup. They're the special moments."
In a 13-year professional career which included spells with Middlesbrough, Barnsley, Hibernian and Blues, Murphy scored 23 goals in 290 appearances.
But injuries blighted his time at Blues, missing their first season in the Premier League in 2008-09, before undergoing knee surgery in November 2012, forcing him to miss the rest of last season.
He then managed to play six times this season, which included scoring two goals in a 4-0 win against Millwall, Birmingham's last home league win, in October.
However, his knee has not fully recovered and a 1-1 draw with Derby at Pride Park on 26 October proved to be his last game as a professional footballer.
"At first we thought the surgery [in November 2012] had gone well but as soon as I started running and trying to train again I had an inkling that something wasn't right," added Hartlepool-born Murphy.
"I managed to play six games, even though I came off in three of them because of the pain.
"I'd reach 60 minutes and just physically couldn't move my knee. At first I thought I was just getting used to it but it just wasn't right.
"It was nice to get a couple of goals when I came back for that brief spell."
Murphy signed for Blues from Hibernian in 2008 after scoring seven goals in 134 appearances for Hibs and previously played 10 games for Barnsley during a loan spell.
"[My time at Birmingham] has been difficult but enjoyable," he added.
"It's just been two bad injuries, firstly in the third-to-last game of the season in the year we got promoted, which was disappointing because I missed the whole of the following campaign in the Premier League. Then obviously doing this [knee surgery] back in November 2012."
Murphy scored twice for Birmingham in their Europa League campaign in 2011-12, including the equaliser as Blues became the first English team ever to win at Club Brugge's Jan Breydelstadion.
"The night in Bruges was special, especially with the amount of supporters that we had. That game will live long in my memory.
"After relegation, Chris Hughton came in [as manager] and did a magnificent job. That was a long season but unfortunately we just got piped at the end by Blackpool in the play-offs.
"Before that, winning the League Cup was another massive highlight, even though I didn't get on in the final.
"To be part of a squad that's lifted a major trophy is a special moment.
"At this present time I just need to get my head round having to retire. It's been a tough week but I move on and look forward to the future.
"I need to have a sit down and think about things. I'll have a chat with my family and wait and see where we go from there. Thanks to the fans for all their lovely messages."