Sierra Leone FA steps in over Johansen and Kallon row
By Mohamed Fajah Barrie
BBC Sport, Freetown
Last updated on .From the section Football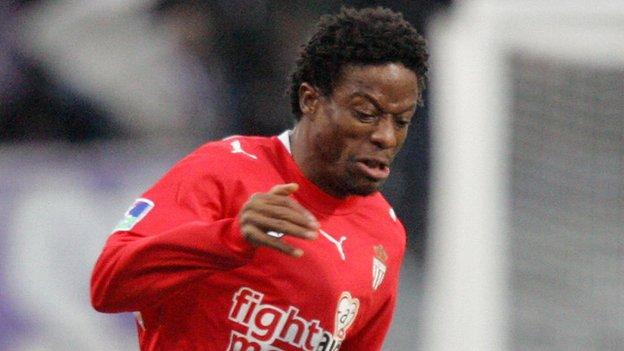 The Sierra Leone Football Association (SLFA) is to investigate the row between its President Isha Johansen and former Leone Stars captain Mohamed Kallon.
The body's decision comes a day after Kallon, 34, was detained by the police for about seven hours for questioning and was released on $11,000 conditional bail.
The row occurred on 6 March after an FA Cup match involving Kallon's team, FC Kallon Junior, in Freetown.
Ex-Inter Milan and Monaco striker Kallon alleges he was slapped on the back of the neck by Johansen after the match.
Johansen has contested this and claims she acted in self defence after she was pushed by Kallon, and she also alleges he verbally abused her.
Kallon reported the matter to police but on Monday he was detained for questioning and Assistant Inspector General Al Sheikh Kamara told BBC Sport that the former player has a case to answer in connection with the matter.
On Wednesday, the SLFA released a statement saying the matter had been referred to its disciplinary board. BBC Sport understands that the SLFA executive committee has also recommended for the matter to be dropped by police and dealt with by the governing body.
After Kallon was questioned by police his lawyer Emmanuel Saffa Abdulai told BBC Sport: "I'm disappointed, shocked and surprised at the police's decision to detain Kallon.
"This is unbelievable, my client is supposed to be the complainant not the defendant in this matter because he was one who was slapped and sustained bruises - and also he was the first to report the matter to the police.
"My client has been victimised. The system in Sierra Leone favours those who have connections and money but we are going test the police in this case."
Johansen has refused to comment because the police are investigating the matter.
There has been bad feeling between Kallon and Johansen since the SLFA elections in 2013. The two were nominated for the SLFA top job but Kallon and another nominee Rodney Michael were disqualified by a Fifa normalisation committee and Johansen was elected unchallenged.