Charlton: Is Chris Powell sacking a risk for Roland Duchatelet?
Last updated on .From the section Charlton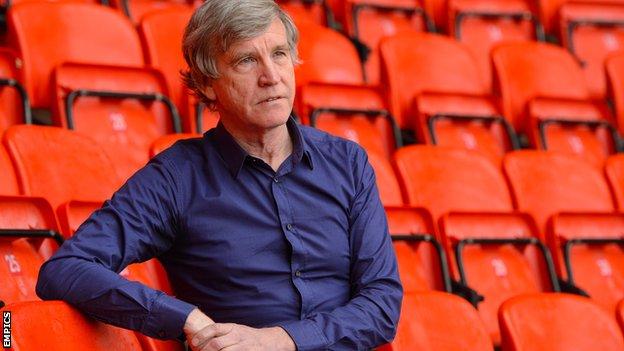 Charlton Athletic owner Roland Duchatelet is a shrewd businessman but his latest decision concerning the Addicks must rank as one of his biggest risks.
The 67-year-old has amassed a personal fortune of around 750m euros from his electronics companies but in the past few years he has branched into European football and purchased several clubs across the continent.
This week, the Belgian made his most significant decision since his takeover of the south east London club in January.
With the club bottom of the Championship, and after an FA Cup quarter-final exit at Sheffield United, Duchatelet fired manager Chris Powell and replaced him with Jose Riga.
Sacking Powell, a fans' favourite who had been in charge since January 2011 and who had led Charlton to the League One title in 2012, may not prove to be a popular decision with supporters.
Powell's replacement has managed several clubs in Belgium and has coached at the Aspire Academy in Qatar. He joined the Addicks from a consultancy role at AC Milan's youth academy.
Riga boasts a degree in computer science and 20 years as an IT executive along with his Uefa Pro Licence coaching badge.
Duchatelet himself said it was not an easy decision to sack Powell and "time will tell" if it was the right choice.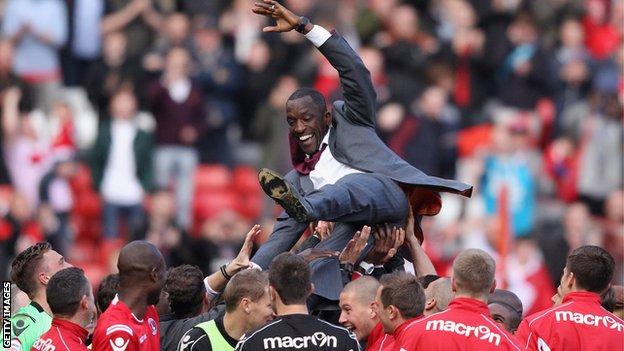 "Chris Powell is an icon, a legend of our club and extremely popular," Barnie Razzell of the Charlton Supporters' Trust told BBC London 94.9.
"He was on the verge of signing a new contract last week, and this week he has been sacked. There is concern."
The Addicks are just one part of Duchatelet's network of six clubs which stretches across Europe, with 10-time Belgian champions Standard Liege the most prominent of them.
Powell's hands have been tied in the transfer market since winning promotion to the Championship, with limited financial resources provided by the previous board of directors.
Despite January's takeover, striker Yann Kermorgant and midfielder Dale Stephens were sold, while five of Charlton's six January additions came from Duchatelet's network.
Their impact has been mixed. Midfielder Astrit Ajdarevic has been a regular, Iran international striker Reza Ghoochannejhad has failed to score and keeper Yohann Ulien-Thuram has proved somewhat error-prone.
Full-back Loic Nego has not featured since making his debut at the start of February while teenage winger Anil Koc has failed to make a senior appearance.
Powell had been in talks with Duchatelet over a new deal but, upon dismissing him on Tuesday, the latter said the two "could not reach an agreement over the club's football strategy going forward".
Former Charlton defender Steve Brown, who played alongside Powell at The Valley, says the former England left-back's job "has been almost impossible".
Brown said: "He has held his head very high through the difficult times.
"Chris has done it with a dignity. He has never come out in the press and said how it really is. I think he was put in an untenable position."
Richard Cawley, who covers Charlton for the South London Press, thinks it was always probable that differences between Powell and the owner would come to a head.
"This has been brewing for a little while," Cawley said.
"There was pressure being brought to bear for some of these players who had come from other clubs that Duchatelet owns to be involved.
"I don't think Chris necessarily felt some of these players would improve the side. In that situation you have to stick to your principles."
Powell issued a statement through the League Managers' Association on Friday saying it had been "an honour" managing the club and thanking fans for their "continued and unconditional support".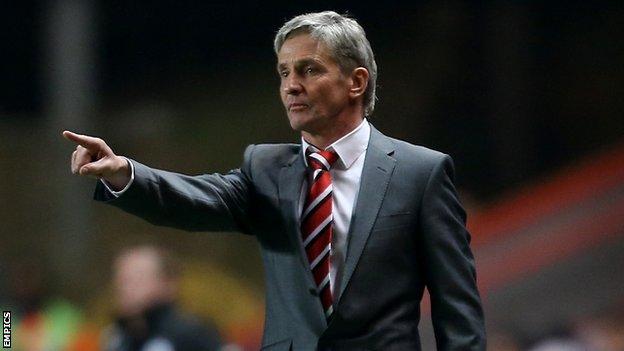 Riga's first game in charge was Wednesday's 0-0 draw at home to Huddersfield, which leaves the Addicks three points from safety in the Championship but with up to four games in hand on their immediate rivals Barnsley, Yeovil and Millwall.
His side looked bright and had several chances to win the game but the question remains as to whether the 56-year-old will be able to inspire the side and lead them to survival.
Riga has previously worked with Duchatelet, spending the 2011-12 season as Standard manager.
"Duchatelet wants people he can trust and that is the reason he took Riga," Kristof Terreur of Belgian newspaper HLN said.
"Duchatelet, who dislikes the world of football and agents, likes a proper man at the head of his teams.
"It is quite difficult to say what they can expect. The guy [Riga] doesn't have a real big reputation in Belgium."
Brown, now the manager of non-league side Ebbsfleet United, says Riga's knowledge of the English game will be tested.
"It could turn out to be a fantastic move and the new guy could turn the season around and stay in the Championship," he said.
"If it goes the other way and they are relegated, I want to know how much this guy knows about League One.
"These foreign managers come over and it is OK when it is the Premier League, as it is worldwide in terms of publicity. The Championship and League One are very difficult leagues to come in and manage in."
Duchatelet has been ruthless in Belgium before. His sacking of popular Standard manager Mircea Rednic last year, after the Romanian sealed qualification for the Europa League, sparked fan protests.
However, his replacement Guy Luzon has guided the club to the top of the league and Les Rouches are on track to qualify for the Champions League.
Duchatelet's grand plan for his network of six European clubs remains a mystery, despite his assertion that "if you have five children... they are all your priority".
He told BBC Late Kick Off London and the South East that Charlton's leading players could be sold to Standard Liege in the future.
"I don't think anyone wants to be a feeder club for any other club," Razzell said. "If you told fans that, they would be very upset and wouldn't accept it.
"We are told we are part of a network of independent clubs and might sell the odd player to Standard Liege.
"What we have asked for is some direct dialogue as a Supporters' Trust and sit down with the board and talk about where they are going."
Terreur believes Duchatelet is more worried about the bottom line and is "all about maths and money".
He added: "Roland Duchatelet says he likes football but in Belgium we still think he likes money more.
"He just wants to sell the club after a few years, although he talks about projects and tradition. I don't believe this because he has always been a businessman."
Charlton face the three sides immediately above them - Barnsley, Millwall and Yeovil - in the next month.
Should Riga fail to keep the Addicks in the Championship, Duchatelet may rue his decision to sack Powell and Charlton's precise role in his network of European clubs may have to be reassessed.