Guernsey FC happy to stay amateur - Steve Dewsnip
Last updated on .From the section Football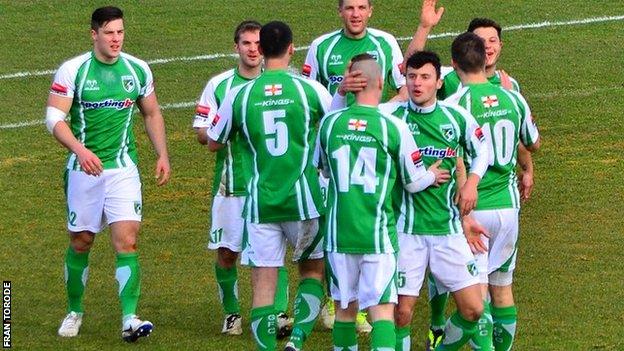 Guernsey FC chairman Steve Deswnip says there are no immediate plans to pay the club's players.
The Green Lions, formed in 2011, are one of the only clubs in Ryman League South to not pay players.
"With one possible exception, every other team is paying players and coaching staff," he told BBC Guernsey.
"We will continue to do what we think is right for our football club. I never say never but if it's not broken then why fix it?"
Guernsey have enjoyed consecutive promotions since their formation and are third in the table this season after another impressive campaign.
"Everyone involved in the club - the players, coaches, directors, matchday staff - are volunteers. We do it for the love of the game but also for the love of this fantastic island we live on," he said.
"Three years ago when Mark Le Tissier, Tony Vance and I had this vision to set up this project we always thought we could be successful and deliver a product the public of Guernsey could be very proud of.
"But we've been surprised by how popular it's been. To see people come along to Footes Lane on a Saturday in their thousands has been phenomenal.
"One thing that hasn't wavered through that time is the commitment of the players, the coaching and medical staff and my fellow directors - it's great to see and because of that commitment we're now enjoying some of the success."
Dewsnip added: "I will say we are as ambitious as the next football club.
"I'm as ambitious as the next chairman to progress and push on and bring greater playing experiences to the island so it's something we'll continue to keep under review.
"A lot of things would have to change, not least the financial structure. At present we're a registered charity and run it as a non-profit organisation and every single penny that we raise goes to cover the running costs of the football club.
"We have to raise in the region of £400,000 to £450,000 a season just to survive and that comes from a multitude of sources including sponsorship, season tickets, gate receipts, merchandising and we're constantly looking for other ways to raise money.
"I think people know why that budget needs to be so big because we have to cover travel and accommodation costs in both directions, for visiting clubs too, but this is nothing new and we're lucky to have a very good group of financial supporters."