Black day for Rangers' excuses against Albion Rovers

By Tom English
BBC Scotland
Last updated on .From the section Football92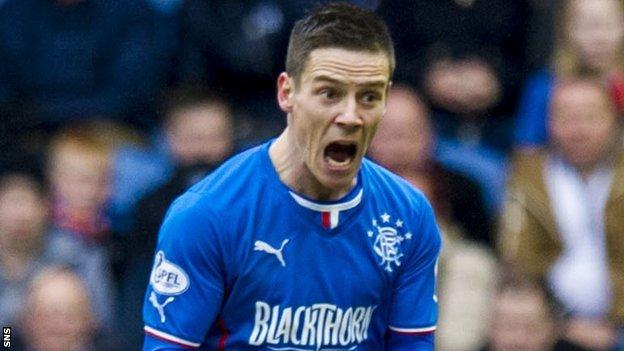 In deciding what was the most eye-opening aspect to Sunday's Scottish Cup tie at Ibrox, it was a toss-up between the joyless toil of a deficient home team and the instructive comments made by one of their senior players in the aftermath.
Ian Black is an experienced campaigner. At his best, he's a combative and impressive midfielder. He's 28-years-old and is richly rewarded for whatever it is he brings to the Rangers team. He's one of those guys who is supposed to lead by example, who's supposed to set the standard and make sure that nobody falls below it.
Of course, there is a problem there in that he's a poor fit for a role as standard-bearer. If you're going to be one of the voices of the dressing room, then you'd be expected to stay clear of the kind of betting controversy that has damaged Black's name.
Betting against your team winning against what was then the weakest side in the country, East Stirlingshire, is no way to go about your business.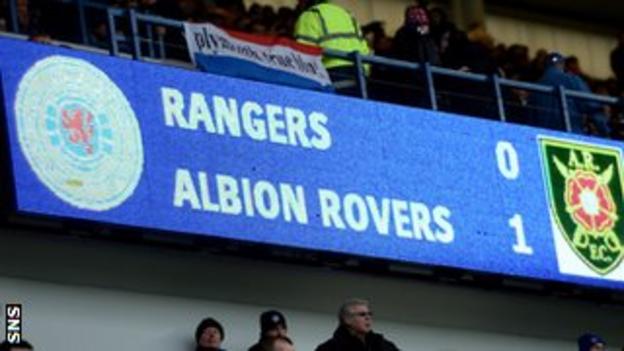 Black was lucky to get such a soft sanction from the judicial panel - it amounted to him missing three games - and even luckier that his manager was so understanding and so forgiving.
It's hard to predict what might have happened in the days of Walter Smith, or Jock Wallace, or Scot Symon, or Bill Struth, but the best guess is that if one or all of those ever discovered that one of their Rangers players had played in a match having bet on Rangers not winning it then the player in question would have met with a dramatically different response than the sympathetic treatment handed down by Ally McCoist.
If that episode suggested a weakening of the Rangers' standard then Black's utterances after Albion Rovers is another example. Rangers' performance lacked so many basic qualities that even their own people booed them off at the end.
The supporters left the players in no doubt about what they thought of what went down on Sunday. When Black talked about it with journalists, there should have been an acknowledgement of the supporters' right to boo. There should have been an anger in his voice about the way the team played.
A leader would have said that the performance was embarrassing, unacceptable and not good enough for the club or its fans, that the players are disgusted and are determined to put it right. Black didn't say any of that, though.
Instead, he sought to justify it and explain it away with a self-pity that was, perhaps, illustrative of the level to which standards have fallen at Ibrox. He urged people to look at the possession stats heavily weighted in Rangers' favour.
He said that Albion Rovers had only one or two shots at Rangers' goal. He said that the visitors parked the bus and then he challenged anybody to come up with a game plan that could involve breaking them down with passing rather than the aerial and agricultural bombardment that eventually led to their controversial equaliser.
There was something quite dismal about a senior Rangers player pointing to possession stats when defending a draw at home to a part-time team.
Albion Rovers left nothing on the field. They emptied themselves physically and emotionally in pursuit of victory. They were a credit to themselves and their manager.
It was in their voices at the end that we heard the passion and the love of the game.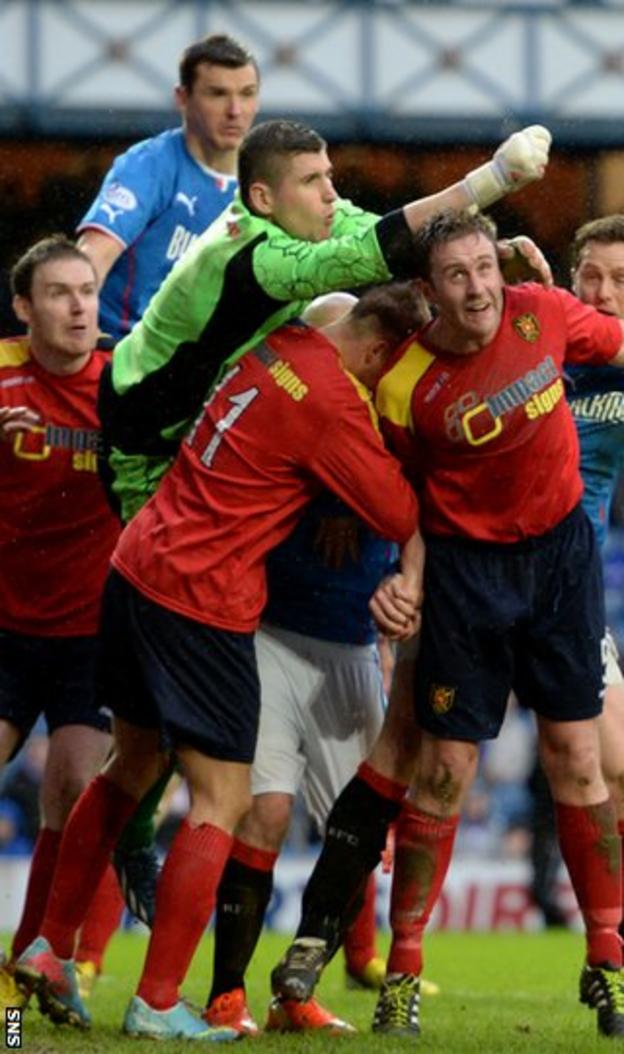 From Black, we got lame excuses, buck-passing with some jibes at the Ibrox supporters thrown in for good measure. On Tuesday, he tried to distance himself from those comments when he criticised the fans, but those were his words after the match. Nobody invented them. They're on tape.
It was Black who responded to a wretched performance against Albion Rovers by wondering aloud about "what else do people want from us?"
"What more can you ask for?" he said of Rangers' imminent sealing of the League One title, most probably on Wednesday night. Quite frankly, the answer to that is, a lot more than they got on Sunday and certainly more than Black appears to be content with.
Giving verbals to the fans, via the media, is not a sensible approach at any time, but it's utterly feeble when you're doing it after such a poor performance.
Another point Black made was that the supporters are doing the players no favours when they boo. "There are still a lot of kids in the squad who sometimes can't handle the crowd when they get on their back," he said.
Another illustration of Black's mentality. When you play with a big club, intensity from the grandstands comes with the territory. Booing hasn't happened often at Rangers this season in any case, so why make such a big deal of it when it does?
If he was talking about the booing from Sunday then that is another thing he has got wrong. Rangers had one "kid" in their starting line-up against Albion Roves - Fraser Aird, who's 19. Apart from Aird, none of their first XI were under the age of 25.
The average age of the team McCoist sent out to play was 27. Albion Rovers' average age was 26.
Kids? Really?
Rangers will win the League One title, that's a certainty. What is more doubtful is how they will do next season if an excuse-making culture spreads around the dressing room. Black had a chance to send out a strong message on Sunday evening. The message he sent out instead, albeit unwittingly, does not bode well.