Rangers: Dave King flies in for shareholder talks

By Alasdair Lamont
Senior football reporter, BBC Scotland
Last updated on .From the section Football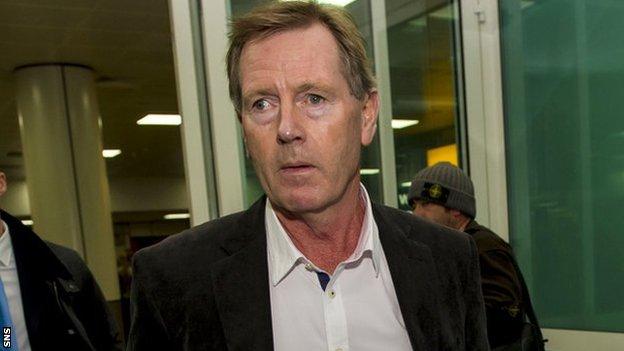 Former director Dave King will begin the next phase of his plan to bring fresh finance to Rangers on Wednesday.
King is flying to London for meetings with current investors to discuss his plans for the future of the League One leaders before heading for Glasgow.
The South African-based businessman has been involved in a war of words with the present board in recent weeks.
Over the next couple of days, King will meet several of the institutions and individual investors who own shares.
One of those meetings is scheduled to be with Laxey Partners Ltd, the club's single-biggest shareholder, which has been at the centre of the most recent controversy at Ibrox.
The Isle of Man-based investment management company loaned Rangers £1m at a 30% interest rate only for the club to issue a statement this month saying they were considering an alternative loan at a lower rate of interest.
King will ask current shareholders to back his plans for a new share issue, arguing that a diluted holding for them is better than a total write-off should Rangers go into administration.
His plan then is to come to Glasgow at the end of the week to meet fans groups and other interested parties, with the current board having requested an audience.
Rangers announced a £14.4m loss in the 13 months to June, but chief executive Graham Wallace has insisted that the Glasgow club is not facing a second administration.