Darren Ferguson questions Peterborough players' commitment
Last updated on .From the section Football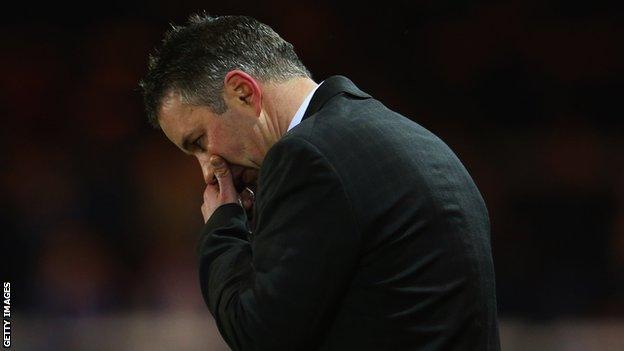 Peterborough United boss Darren Ferguson has questioned the commitment of his players, saying they would be relegated without him.
"We'll go through the same stuff and they'll make the same mistakes again," Ferguson told BBC Radio Cambridgeshire.
"If they were left to their own devices they would be relegated."
Peterborough only lost one of their first 13 league games of the season, but have been beaten 13 times in 22 matches since.
Their only win in March came against strugglers Crewe last week, and Ferguson, the son of former Manchester United boss Sir Alex, was furious with the way his side went 2-0 down within 16 minutes at home to Bristol City.
"If they think they can just turn up on a Tuesday night and win at home to Bristol [City], just because they beat a team in the bottom four, they're in cloud cuckoo land," he said.
"I'm so patient with them. How you can start a game against any team like that - it's a disgrace and it's cost us.
"There's a lack of character. Some of them you can trust, some you can't. And I'm not having any more of it.
"They've let everyone down, they've let me down, the club down, the fans again. I'm not accepting it and they know that. It was a completely unprofessional start to a game.
"Everyone will say 'it's your responsibility as the manager' and I've never shirked that. But you're only as good as your players and whenever I've got promoted I've always said it was because of the players. I'm not going to change now."
Ferguson has won three promotions across his two spells at London Road - once from League Two and twice from League One.
And the ex-Manchester United, Wolves and Wrexham midfielder said he would not be considering his future at the club, with a Johnstone's Paint Trophy final against Chesterfield at the end of the month to look forward to and a place in the play-offs still within reach.
"I'm 100% committed. No-one has to worry about that," he added.
"I've been up for the challenge all season. But sometimes you need it back. Some people might think I'm out of order. I'm not bothered. Enough is enough."