Ralph Krueger named Southampton chairman
Last updated on .From the section Football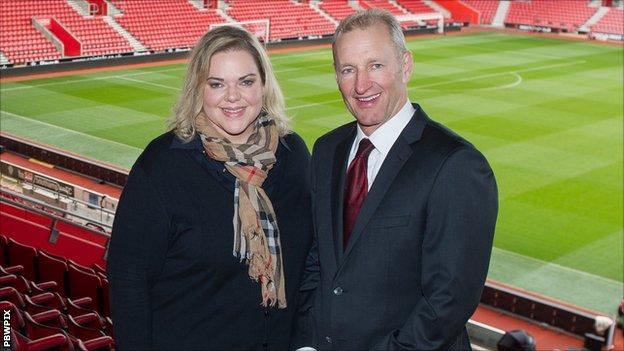 Southampton have named Canadian Ralph Krueger as their new chairman following Nicola Cortese's departure in January.
The 54-year-old, who has never worked in football, will be joined at St Mary's by new director Hans Hofstetter.
"Although there is a solid foundation, the club has tremendous untapped commercial potential," said Krueger.
During the Winter Olympics in Sochi, Krueger specialised in scouting European opposition for Canada and advising on the differences between international ice hockey and that played in the National Hockey League (NHL) in North America.
He has been based in Germany for much of the past 30 years.
The former ice hockey player and NHL coach is now relishing a new challenge at Southampton.
"I have had the opportunity to meet with the staff and it is clear there is a positive soul throughout the club," he added.
"We will build on that soul by creating platforms of open communication both inside with the staff and outside with our fan base.
"We will continue to nurture 'The Southampton Way' by reaching for consistent growth in all departments to ultimately build a culture that allows Southampton to remain healthy and sustainable in the future."
Owner Katharina Liebherr installed herself as Cortese's replacement eight weeks ago when he quit after five years, during which the club rose from League One to the Premier League, but Krueger will now assume day-to-day running of the club.
"The news that Ralph has agreed to take on the role of chairman at the club follows a calm and steady process of identifying a board that will bring the stability needed to achieve long-term success both on and off the pitch," said Liebherr, who will remain on the board with what she described as "active involvement".
Liebherr, whose father Markus Liebherr bought the club in 2009 before his death a year later, added: "Ralph has an impressive background in major league sport at all levels.
"It is his experience as an expert in leadership, motivation and team-building that makes him ideally suited for this important position in the Saints organisation."
Business lawyer Hofstetter and acting chief executive officer Gareth Rogers have also been appointed to the holding company's board of directors.
The latter will also remain an executive director of the football club's board, alongside Les Reed.