Manchester City calm Sergio Aguero injury concerns
Last updated on .From the section Football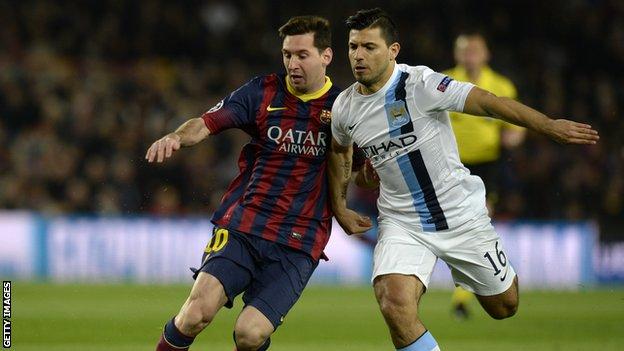 Manchester City have played down concerns about the muscle injury sustained by striker Sergio Aguero in the 2-1 defeat at Barcelona.
The Argentina forward, who has scored 26 goals this season, was forced off at half-time in the Nou Camp.
Assistant manager Ruben Cousillas is hopeful that the injury is minor.
"We don't think it's anything serious. He felt some muscle pain but it was more a precaution than anything else," he said.
"It's too early to know how long he'll be out. We'll do some tests to assess the injury."
Aguero, 25, has missed two spells this season with calf and hamstring problems and has started 15 of City's 26 Premier League matches this season.
City were beaten 4-1 over two legs by Barcelona.
Trailing 2-0 from the first leg, their first goal of the tie came when Vincent Kompany found the net in the 89th minute in the Nou Camp.
Aguero had started the game as a lone striker, with City only switching to two recognised forwards when Alvaro Negredo came on to partner Aguero's replacement Edin Dzeko with 17 minutes left.
Cousillas, a prominent figure on the touchline with boss Manuel Pellegrini serving a two-game touchline ban, defended City's tactics.
"In the second half, we had three or four clear chances with just one striker, so you can't say if we'd played two strikers we'd have had the same chances," he said.
"We usually play with two, but against Barca, with such good midfield players, we thought we needed to reinforce in midfield. But I don't think it would have changed the result.
"Up to last weekend, we were the only team chasing four trophies, which is not easy to do. We are out of two, but are still very much alive in the Premier League. The team is recovering and have been through some low times, but we are alive and we will fight for the title."
City won the Capital One Cup this season - a first trophy under Pellegrini - but were knocked out of the FA Cup at the quarter-final stage by Wigan on Sunday.
Despite two setbacks in four days, Kompany believes that his side, who were in the Champions League knockout phases for the first time, will be a force in Europe next season.
He told Sky Sports: "Only the winners get remembered, but it's only the third year ever for Manchester City in the Champions League.
"I'm looking at this and I don't see why next year we should fear anyone."
Pablo Zabaleta was shown a second yellow card for dissent after French referee Stephane Lannoy refused a penalty appeal for Gerard Pique's challenge on Dzeko.
But the right-back maintained he had no idea why he had been sent off.
The Argentine told BBC Sport: "I was a little bit angry because he didn't give a penalty, but I'm always respectful to him and very frustrated for that decision. It was a shocking decision."