Leeds United: What is going on at Elland Road?
Last updated on .From the section Leeds United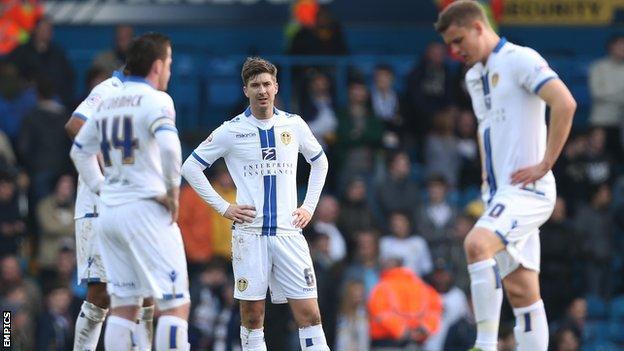 The final day of January was the start of another chapter in the convoluted story of Leeds United.
Since then manager Brian McDermott has been sacked and then reinstated, the club has been given a winding-up petition which was then withdrawn and the team have lost their last two home matches by an aggregate score of 9-3.
Cellino's takeover is still with the Football League and it is likely to delay a decision over his suitability to own the club until the case for tax evasion he is facing in Sardinia is decided.
Amid the uncertainty over the club's ownership and the poor performances on the pitch, BBC Radio Leeds' United reporter Adam Pope looks at the situation at Elland Road.
Why are they in this mess?
GFH bought the club from the hugely unpopular Ken Bates in December 2012, promising to return the club to its former glories but also keen not to make a fanfare about spending fortunes.
In fact since officially coming in, and it had been funding the club prior to its purchase, it is believed it has spent £40m on the club up to October 2013.
A deal was agreed with Sport Capital, a consortium featuring managing director David Haigh and main sponsor Andrew Flowers, but the deal collapsed over a failure to produce funds.
Cellino had been looking to invest in the club as part of the Sport Capital bid but wanted to take too much of a stake. This led to him going it alone and he agreed a deal with GFH on 31 January.
So, the club is owned by GFH but has been funded by the Italian for the last two months. In that time it is thought he has put around £6m into the club to cover wages, signings and even work on the pitches at the club's Thorp Arch training ground.
However, with the club losing £1m a month and Cellino no longer willing to put more money in until his ownership of the club is confirmed, the situation looks bad.
On top of all of this Bates is attempting to sue the club for wrongful dismissal over his departure last summer. Should he be successful that would be another £1m the club would need to pay out.
How bad is the situation?
Clearly the situation behind the scenes can't be great.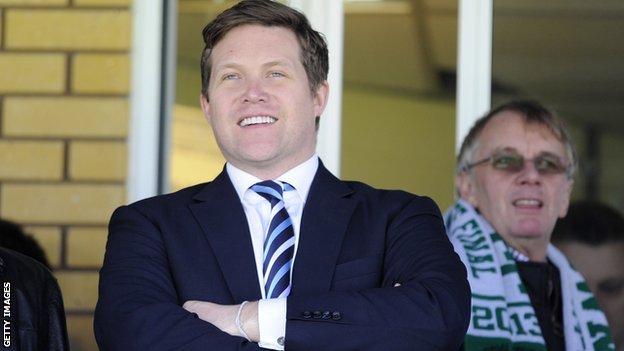 The club has a high wage bill, at least £15m a year, with some of the highest earners not really figuring greatly in the first team and still contracted for another season.
The fans are worried about the threat of administration after seeing everything the club has gone through since the 'living the dream' days of Peter Ridsdale.
However, Haigh, who is now no longer involved with GFH and is set to become chief executive should Cellino's takeover go through, moved to allay any immediate fears over entering administration in an interview with the Yorkshire Post.
"The club is in good hands. It has money and there is no chance of the club going into administration. None whatsoever," he said.
"I keep hearing these whispers, where people have put two and two together to make 550. We had a winding-up order recently, which caused fans to panic.
"But the club is not in any kind of precarious financial position. Either now or in the future. It is not true and never has been."
On the pitch the team has struggled recently, with just two wins from their last 15 matches and nine goals conceded in their last two home games.
Of course it is not much of a surprise that form on the pitch has suffered given the uncertainty off it but there are now a growing number of fans questioning McDermott.
The former Reading boss has largely been a popular figure at Elland Road since his appointment last April and he remains defiant that he is the right man for the club long-term having taken Reading out of the Championship as champions in 2012.
What could happen now?
If the Football League turns down Cellino then GFH will need to find a new investor.
At the moment it is not clear who that could be but the Together Leeds consortium is believed to still be interested in taking over. The group led by local businessman Mike Farnan and which also includes Welcome to Yorkshire chief executive Gary Verity and former Hull City chairman Adam Pearson has previously been frustrated in its attempts to take over but could become the only viable option.
In the interim GFH would need to start funding the club again, something that it will not be keen to do.
Should Cellino's takeover get the go-ahead then it's fair to say that Leeds fans would be in for an interesting ride.
He clearly has, or at least had, doubts over McDermott and the team's recent performances will have done little to dissuade him from that. He called the players "chickens" after Saturday's 5-1 defeat by Bolton and a high turnover of players is probably quite likely.
He tried to bring in midfielder Andrea Tabanelli from Cagliari when he first came in and an influx of players from Italy could be possible. On top of that he has a reputation for sacking managers.
After some initial trepidation it seems that a lot of fans are now on board with Cellino, having lost all faith in GFH.
Following Tuesday's debacle, McDermott told BBC Radio Leeds that he could not plan for the summer and that stability remained the key word. He shares the belief that Cellino is the right man for the club, and they seem to be working well together, but whether the Football League agrees remains to be seen.